Neither Jose Mourinho or Cristiano Ronaldo picked up their Copa del Rey losers medals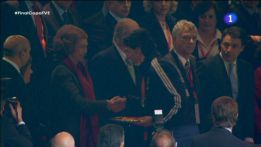 What a horrific night it was for Real Madrid in the Copa del Rey final as Atletico came to the Bernabeu and won 2-1 in a match that will live long in the memory for Diego Simeone's side.
It was surely the nadir for Jose Mourinho and Cristiano Ronaldo with the Portuguese coach describing this campaign as his worst ever following the Copa del Rey final defeat.
Both Mourinho and Ronaldo were sent off during the epic Madrid cup final and neither felt the need to go get their losers' medal after the match.
So, it was left to Real Madrid assistant coach Aitor Karanka to do the honours, as can be seen on the La Sexta report below.
There are also suggestions that Atletico Madrid were calling for "Jose Mourinho to stay" following the 2-1 victory – perhaps the final insult for the soon to be Chelsea boss.
---