Mourinho has facts on a crib sheet, slates Real Madrid's 21 years, 18 coaches & 5 semis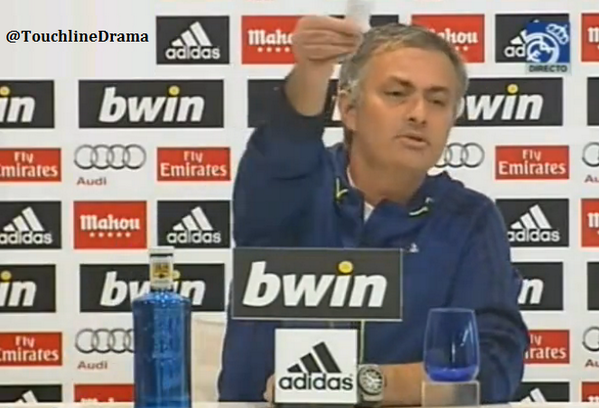 Jose Mourinho delivered a world class press conference on Friday in Madrid.
With rumours almost ironclad that the Special One will walk out of the Santiago Bernabeu in order to go back to Chelsea, Mourinho let rip on journalists by listing a series of facts and achievements of Real Madrid history.
Jose's tongue-lashing, complete with a pre-prepared crib sheet on a small piece, was superb:
The record league title is mine, you (journalists) will want to erase it but you won't be able to. We won the Copa del Rey for the first time in 20 years and you won't be able to erase that either.
The three Champions League semi-finals, which personally speaking do not leave me satisfied, can't have been easy to achieve because with 18 coaches in 21 years (Real) only got to five semis.
That's the poor record of Mourinho: three years and three semi-finals. For me it is a source of pride to have been the Real Madrid coach that ended Barcelona's hegemony in Spain.
Noticeably, one journalist got up a left in the middle of Mourinho's rant.
---