Mixed messages as the Star say David Moyes won't be axed from Man United, Mirror say board "losing faith"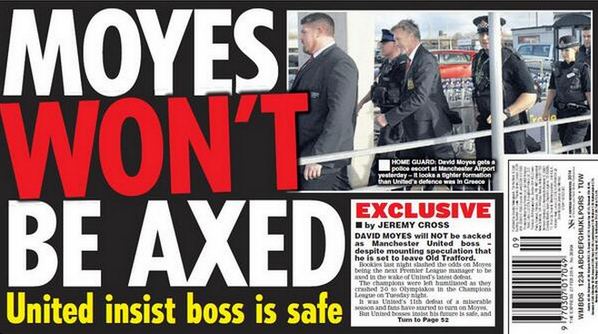 Do the papers have a clue what's going on at Manchester United?
Rumours and speculation have lead to flat-out contradiction on the backpages of the Star and the Mirror on Thursday as the future of David Moyes at Old Trafford hangs up in the air.
While the Independent report that United's Scottish manager has just 12 games to convince the Glazers he is their right man, two of Britain's leading tabloids report different stories on Moyes' future.
According to the Star, Manchester United "won't" sack their manager come what may.
Jeremy Cross reports that Moyes' is currently "safe" in the Old Trafford dugout, claiming "David Moyes will NOT be sacked as Manchester United boss – despite mounting speculation that he is set to leave Old Trafford."
That bold claim, however, is challenge in the Star. Under the headline "United board losing faith with Moyes", hack David McDonnell farts:
David Moyes is facing a fight to prove he is the man to lead Manchester United following the latest setback in their crisis hit season.
He has already lost the support of a significant core of United fans and there is a fear within the club that their turbulent season could yet go from bad to worse.
---