Mirror article on Man United target Reus not moving to Bayern as 'money is not everything' is FAKE, say BVB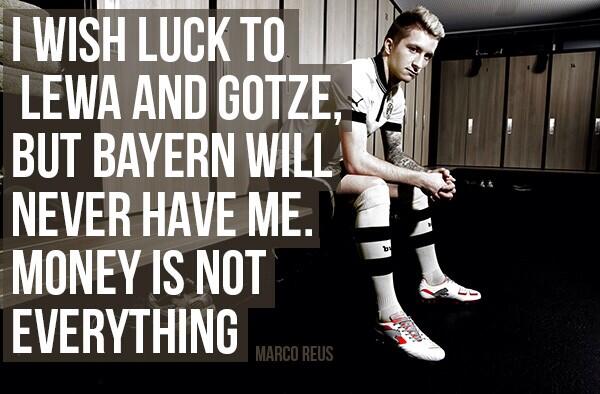 Hats off to German website 11freunde.
Tabloid paper the Mirror printed an article from Danny McCann on Saturday which garnered plenty of attention, titled "Man United target Marco Reus won't move to Bayern Munich as 'money is not everything'".
The crux of the piece were quotes attributed to Borussia Dortmund and German star Reus, which read as follows:
I wish luck to Lewa and Gotze, but Bayern will never have me. Money is not everything.
Those quotes have since been uploaded repeatedly on Facebook, Twitter and on many other football websites as Marco Reus has been heralded as a modern day saint for being a professional footballer who realises that there is more to life than the size of one's bank balance.
Only there is now one problem. Those quotes were fabricated and never came out of Reus' mouth, as has now been confirmed by BVB spokesperson Sascha Fligge.
11freunde were at a Dortmund press conference on Tuesday when Mr Fligge announced "These quotes – as is often the case – are fake".
11freunde has since gone about trying to press the Mirror for reaction to the claim they made up quotes, but the German magazine have (unsurprisingly) reported that their efforts to get to the bottom of the matter have been stifled by the red top.
The German website claims that they finally spoke to an editor at the sports department at the Mirror after five attempts at calling, only to find themselves having the phone slammed down on them when they tried to track down the author of the article Danny McCann. 11freunde also add that they have sent an email to the Mirror looking for answers which remains unanswered.
The article by 11freunde into the made up Reus quotes can be read in German here.
---