Mino Raiola says Liverpool move is Mario Balotelli's 'last chance' at the top level
Man City v Liverpool – Best Odds!
EXCLUSIVE ODDS – 6/1 Man City or 12/1 Liverpool to win!
Exclusive Offer: Back Liverpool or Man City at the current Sportsbook price. Your winnings will get topped up within 24hrs.
Mario Balotelli's agent Mino Raiola has been pretty candid about his player's move to Liverpool.
One of football's 'super agents', Raiola – who also represents Zlatan – says that Balo's Liverpool move is his 'last chance' at the top level.
Raiola essentially says it's high time his player shaped up – he's 24, so he can no longer point to immaturity to explain his lack of consistency and/or erratic behaviour.
Raiola also claims that it didn't quite work at Milan for Mario because they were expecting a leader, when he isn't that type of player, he's confident Liverpool will work out for him though, because he'll have Steven Gerrard to fulfill leadership duties.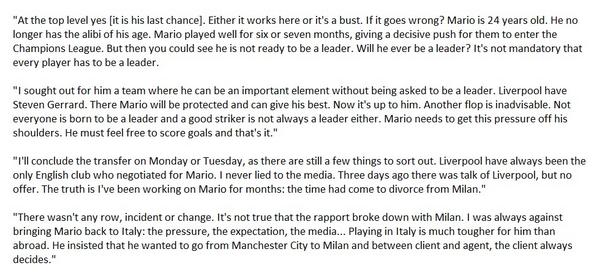 ---