Media Bias! The Mirror attempt to smear Liverpool's Suarez despite being fouled v Manchester City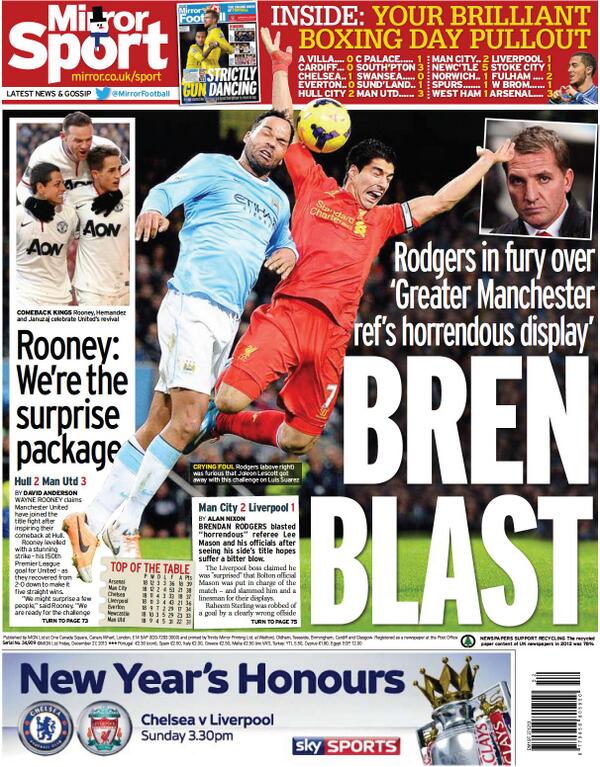 The Mirror have incurred criticism from Liverpool fans for their choice of image on the back page of their sports section on Friday.
The Mirror chose an image of Suarez with his hands raised appealing for a penalty despite being fouled just seconds earler.
The Daily Mail also got in on the act, running the same picture with the caption reading: Appealing habit: Luis Suarez flings his arms up in the air as he is challenged by Joleon Lescott
Both tabloids decided to choose this picture of the incident, because it is the most damning of Suarez instead of the one where the shirt pulling by Lescott is visible.
Despite a great performance where he didn't put a step wrong all match, the tabloid papers clearly have no intention of taking the spotlight off him.
Manchester City defenders Vincent Kompany and Joleon Lescott managed to keep the Uruguayan relatively quiet last night, however not always totally legally.
Liverpool believed they should have a penalty after Joleon Lescott tugged extensively on Luis Suarez's shirt as they wrangled in preparation for a corner.  This incident was also picked up upon by fuming manager Brendan Rodgers who labelled the officials performance yesterday as horrendous.
However Rodgers failed to mention any of Martin Skrtel's penalty box antics, which has also been going on in several matches, and will need to be told to stop pulling shirts.
Is this just classic tabloid behavior or is the Mirror taking this bias too far?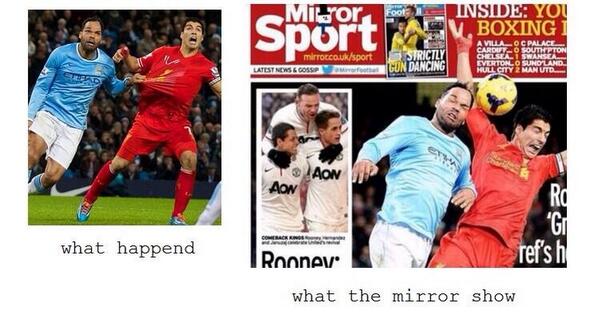 ---
GAMBLING CAN BE ADDICTIVE, PLEASE PLAY RESPONSIBLY