Match Preview: Newcastle v Middlesbrough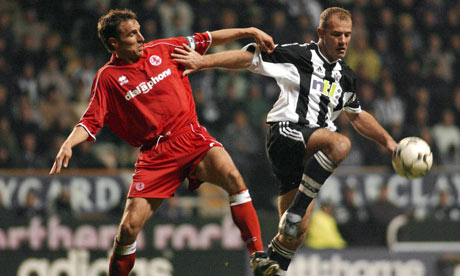 Newcastle v Middlesbrough, Premier League, May 11, 2009
This titanic Tyne-Tees derby is the definition of a "six-pointer" and will no doubt be enjoyed by neutrals as this match has the air of two-bald-men-fighting-over-a-comb.
To be a fan of either side hasn't been easy this season and both teams come into this match with no form and just the desperate hope that Hull and Sunderland look as bad as they do and of course that "Great Escapes" do happen.
Thanks to Hull's ability to lose consistently, Newcastle have the added bonus going into this match that if they win they would move about the Tigers on goal difference. But, the arrival of Alan Shearer has made no discernible difference to the troubled campaign and having claimed just two points under their former number nine this in no way looks like a comfortable victory waiting to happen.
Joey Barton is of course out suspended following his horror show at Anfield last week and there are major doubts surrounding Alan Smith and Jose Enrique. It will be no surprise if Shearer plumps for the front three of Michael Owen (6/4 to score), Mark Viduka and Obafemi Martins (13/8 to score) to conjure a goal out of nowhere. But, the problem for Newcastle this season has been service and it might be left to the Toon Army to suck the ball into the net.
Boro face their most important game since contesting the UEFA Cup final just three years ago and Gareth Southgate will prepare for the most important match of his managerial career. If they lose this one (Newcastle are evens to win) they will set a club record for 11 successive defeats and they need a number of players to stand up and be counted.
Only Tuncay (9/1 to be first goalscorer) has looked like a player fighting for the club and his professional life in recent weeks. Incredibly Stewart Downing has not scored a Premier League goal this season with tricky games against Aston Villa and West Ham to come, now is the time for Boro's bigger players to stand up and be counted.
The first meeting between these two teams ended in a 0-0 draw, looking at the form and goal scoring ability of both sides it would be no surprise if this game also finished goalless. But, surely both teams will go for it, knowing that the loser is all but down.
As a warning to both clubs, the bottom three in the Championship, consisting of Norwich, Southampton and Charlton, should have alarm clocks at both these clubs ringing. Defeat in this game will almost certainly herald Championship football next season and a draw is almost as bad as a defeat. A win and staying up is not merely a dream any longer.
This game has all the makings of an absolute belter.
101gg predicts: Newcastle 3 – Middlesbrough 2 (28/1)
---
GAMBLING CAN BE ADDICTIVE, PLEASE PLAY RESPONSIBLY