Match preview: AZ Alkmaar v NAC Breda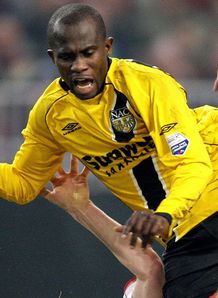 AZ Alkmaar v NAC Breda, Dutch Cup, March 5, 2009
The old adage that league form counts for nothing in cup competitions has been proven in abundance this week. Serie A leaders Inter Milan were humbled at Sampdoria last night, in France Le Mans and PSG have been embarrassed by opponents from lower leagues and Schalke lost to Mainz on Tuesday in a shock result in Germany.
Nevertheless, AZ Alkmaar appear clear favourites to win the Dutch Cup (KNVB-beker) this season on the back of their impressive league form. Without any of the traditional top three still involved in the competition (they beat PSV in November), AZ have an amazing opportunity to replicate their success of the 1981 season when they claimed the double.
Louis van Gaal's side have played some super football this season and have won 14 and drawn twice in their last 16 games. AZ Alkmaar lead the Eredivisie by nine points and in Mounir El Hamdaoui possess the top goal scorer in the league as well as one of the hottest prospects in European football.
The one fly in the ointment however and the fact that has whipped the Dutch press into a frenzy is that NAC Breda inflicted one of only two defeats suffered by Alkmaar this season. In late August a brace from Ghanaian striker Matthew Amoah (pictured above) gave NAC a 2-1 on the opening day of the Dutch season.
NAC are currently seventh in the Eredivisie and will see the Dutch Cup as their most likely route into Europe next season. Robert Maaskant's team struggled somewhat after the winter break but look to have returned to form with a 3-1 win over Sparta Rotterdam on Saturday.
In the lead-up to the game, the fitness of Matthew Amoah has been debated with both managers questioned in their press conferences about whether the 28-year-old Ghanaian will play as he hasn't made an appearance since mid-January. With 12 goals in 15 games this season and having scored a brace past Sergio Romero in August, Amoah could make all the difference.
NAC coach Maaskant admits that "we will really have to play well to win this game" but with FC Twente and SC Heerenveen already through and Roda Kerkade playing FC Volendam in the other match tonight, both teams will feel that if they can emerge victorious they can win the Dutch Cup.
101gg predicts: AZ Alkmaar 3 – NAC Breda 2 (25/1)
Don't rule out: AZ Alkmaar 1 – NAC Breda 2 (22/1)
---