Match Highlights: Zlatan Ibrahimovic (Barcelona) vs Arsenal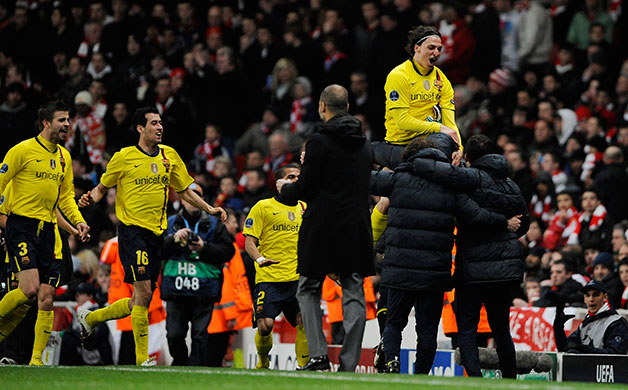 Both lovers and haters of the ultimate YouTube footballer Zlatan Ibrahimovic could point to evidence at the Emirates on Wednesday night to support their case.
Barcelona's almost complete dominance over the Wenger Boys in the opening forty-five was one of the most incredible of the season so far, only tarnished by the fact that the Catalans failed to break the deadlock when in almost total control of the match. During this period it looked as if the curse of Zlatan – a player continually black-marked as being a big-time bottler – would strike again as the Swedish trickster wastefully skied a shot over the bar from six yards, was denied brilliantly by an outstretched glove of Manuel Almunia, and dragged a shot from the edge of the area wide of the target.
To his credit though, Zlatan was undeterred by his earlier misses, and within 20 seconds of the second half, all those missed opportunities faded into the background. Ibrahimovic opened with a delightful lob over a stranded Almunia, and the Swede claimed a crucial second away goal soon after as he crashed a powerful strike past into the top corner after running onto Xavi delightful through-ball.
He eventually made way for Thierry Henry with less than 15 minutes remaining in the match, but by that point he had already showed what he can bring to this team – big goals, in big moments, of big matches.
Zlatan Ibrahimovic's showreel against Arsenal can be seen here.
***
Asa bonus, a video capturing all of Manuel Almunia's saves against Barcelona can be seen here.
---