Match Highlights: Lionel Messi (Barcelona) vs Inter Milan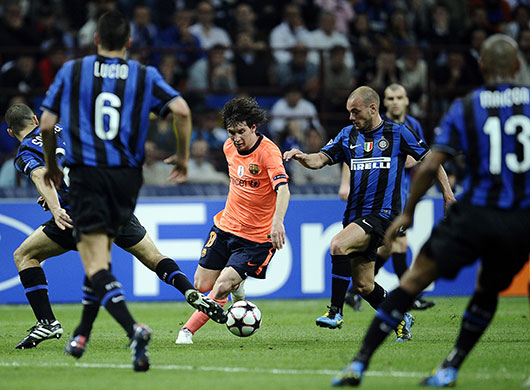 It speaks volumes when the big talking point surrounding Lionel Messi this Wednesday concerns the Argentine's clash with Brazilian full-back Maicon in which the Inter player was left one tooth short.
The incident arose 15 minutes from time when Messi leaped to head a cross only to collide with Maicon on his blindside. Unintentionally, Messi's left shoulder thumped straight into Maicon's face, leaving him strewn across the pitch while the cameras caught the footage of the Brazilian's tooth being knocked out his mouth and flying onto the turf.
Maicon's lost tooth incident can be seen here.
Outside that event it was a difficult night for Messi. After his four-goal blitz of Arsenal in the last round, the Flea was far more subdued in the San Siro as Cambiasso, Thiago Silva and Wesley Sneidjer, amongst others, worked tirelessly to deny the world's best football time and space.
That forced Messi to drop deeper and deeper to get on the ball, and in doing so whenever the Argetine found himself in possession he was usually too far away from goal to make any serious impact. The only exception to that was early in the second half when, after picking up possession on the right hand side, Messi shifted inside onto his left peg and forced Julio Cesar into making a comfortable save from his drilled shot.
All in all it was a difficult night for Messi. But it would a brave man to bet against the pocket-sized dynamo making amends in the Nou Camp next week.
Leo Messi's match highlights against Barcelona can be seen here.
---