Martin Kelly returns from injury for Liverpool at Preston, sports Waddle-esque mullet!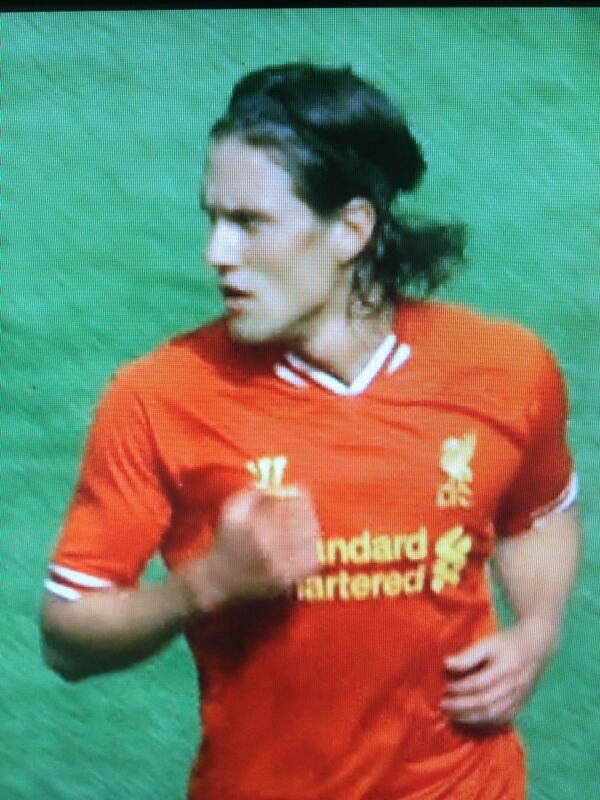 Martin Kelly played the final 9 minutes of Liverpool's 4-0 friendly win at Preston, marking his return from injury after 10 months out.
It would appear that the England defender may not have cut his hair during his injury lay-off!
On the 101 Great Goals highlights page for Preston 0 – Liverpool 4, 1LonelyBeastieIBe asked: "Please post a pic of Martin Kelly's mullet. I heard it's proper Chris Waddle awful."
Photo of Kelly's mullet is above. Followed below by the jokes flying on Twitter about the highly-rated Liverpool defender.
Couldn't work out who Martin Kelly reminded me of with that long hair. Soon as I seen the way he played though it became clear… Maldini!

— LFC Wisdoms (@LFCwisdoms) July 13, 2013
Great to see Martin Kelly back after the season ending surgery. Although not too sure on the hair-do!

— AttackoftheKop (@AttackoftheKop) July 13, 2013
Edison Cava… I mean, Martin Kelly is on for Liverpool.

— Ez (@Number10Role) July 13, 2013
Martin Kelly has turned into Alberto Aquilani

— Feint Zebra (@feintzebra) July 13, 2013
@MartinKelly1990 great to see you back .. Nice hair .. You look like Rambo

---