Martin Demichelis the butt of all the jokes again after giving away penalty v Wigan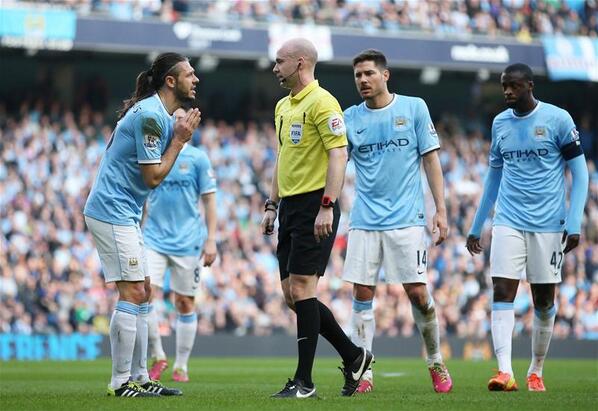 There were many similarities between Manchester City's opening half against Wigan and their recent defeat to Barcelona on social media.
Namely, Argentine defender Martin Demichelis was the butt of all the jokes on Twitter after giving away the penalty that Jordi Gomez scored to give Wigan the lead in the FA Cup quarter-final.
Even before kick-off there was surprise that Vincent Kompany was starting on the bench with the big Belgian known to be a key player for this Manchester City side.
And, flanked by the likes of Gael Clichy, Micah Richards and Joleon Lescott, it looks like once again Manuel Pellegrini may have had too much faith in Martin Demichelis.
Best Tweets on the mistake-laden defender are below.
With Demichelis on the pitch there is always hope for Wigan

— Paddy Power (@paddypower) March 9, 2014
That Martín Demichelis needs to just pack football in.

— Everton Aren't We? (@EvertonArentWe) March 9, 2014
Wigan's lead is slightly less surprising than the continued presence of Demichelis in City's starting line-up.

— Gary Lineker (@GaryLineker) March 9, 2014
I love Demichelis' 'Meh whatcha gonna do?' reaction to each mistake. It's like he thinks sod it, I can always go back to being a welder.

— Nooruddean (@BeardedGenius) March 9, 2014
Anagram of Demichelis: 'Chile deism'. Probably explains Pellegrini's unwavering faith. Probably.

— Matthew Stanger (@MatthewStanger) March 9, 2014
RT if Martin Demichelis wouldn't get into your Sunday League side.

— Sunday League (@SundayShoutsFC) March 9, 2014
Martin Demichelis. Everyone's favourite footballer unless you're a City fan. pic.twitter.com/SY97Rg8YTo

— Not Match of the Day (@NOT_MOTD) March 9, 2014
When you see demichelis is starting pic.twitter.com/SHreRTZf0L

— Tom Kind (@95tomkind) March 9, 2014
What is it with some managers and the desire to bring in old/past it defenders into top teams.You've got loads of money buy sum1 #Demichelis

— Chadders (@englishgiant83) March 9, 2014
This season has created two of the GOAT Premier League scapegoats in Cleverley and Demichelis. Need a keeper and striker.

— Tom Adams (@tomEurosport) March 9, 2014
Martin Demichelis everyone #wafc #pasoccer pic.twitter.com/QqyqtMAgTp

— Liam Blackburn (@liamblackburn) March 9, 2014
---