Marca & AS stalk Gareth Bale at Wales training, Spurs forward refuses to speak
Even when Gareth Bale doesn't say anything, it is major news in Spain and the Tottenham striker features front and centre once again on the two biggest Madrid-based websites, Marca and AS.
They sent journalists to the Wales camp yesterday and both Juan I. Garcia-Ochoa (Marca) and Marco Ruiz (AS) attempted to speak to the Spurs striker as he arrived for light training before being ruled out of the Republic of Ireland friendly.
To Marca, Bale said: "I'm sorry, I can't speak" but Garcia-Ochoa writes that the Spurs forward has been tempted to call out Daniel Levy on his supposed promise that he could leave if Tottenham failed to secure Champions League football.
Marca add that Bale is willing to remain silent as he waits for his dream move to Real Madrid.
AS do splash Bale on their front page (see below) but also failed to get anything out of the Wales star.
To Marco Ruiz, Bale said: "Now is not the time to talk." And AS suggest he won't speak until a deal is agreed between Real Madrid and Tottenham.
Ruiz adds that Bale was in good spirits – contrary to the spin we have been hearing from Spain of late – and they admit that his foot injury is in fact genuine.
A picture of Marca's Juan I. Garcia-Ochoa stalking Gareth Bale is above. Below is today's AS front cover.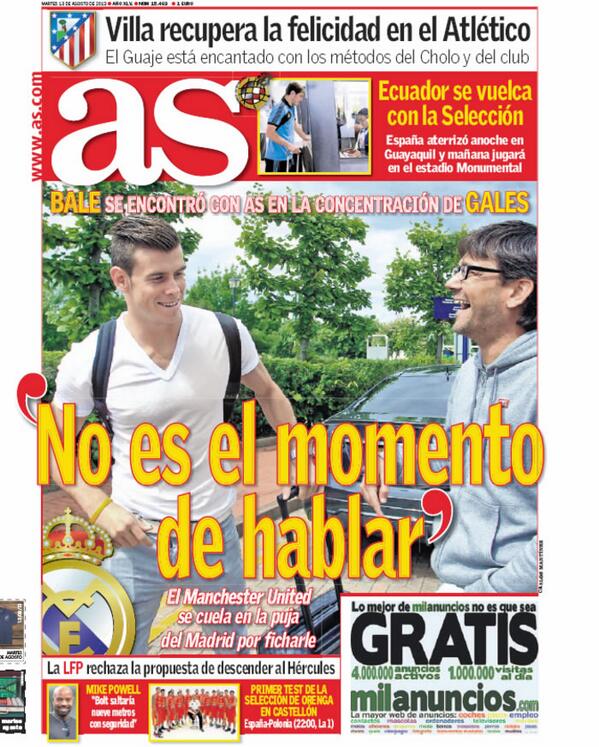 ---
GAMBLING CAN BE ADDICTIVE, PLEASE PLAY RESPONSIBLY