Manchester United's new Adidas kit deal is ENORMOUS compared to Europe's biggest clubs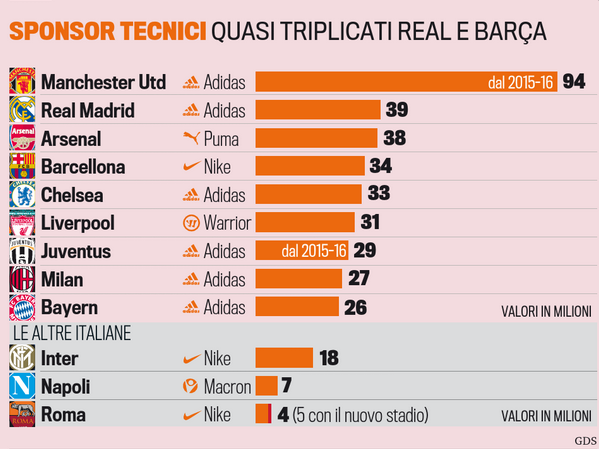 If you had any doubts about Manchester United's new 750 million pound 10-year-deal with Adidas, the graphic above illustrates it rather well!
Quite simply, Manchester United have agreed the biggest kit deal in football history and have blown away pretty much every other big side in Europe.
In Euros, as the graphic is above, it blows away Real Madrid's current deal with Adidas and dwarfs what the likes of Arsenal and Barcelona are earning.
This suggests that some of the other teams will also negotiate bigger deals themselves but this gives Manchester United a clear advantage in the transfer market.
Forget the fact Manchester United will not play European football next season!
A collection of other graphics and Tweets on the Adidas deal are below.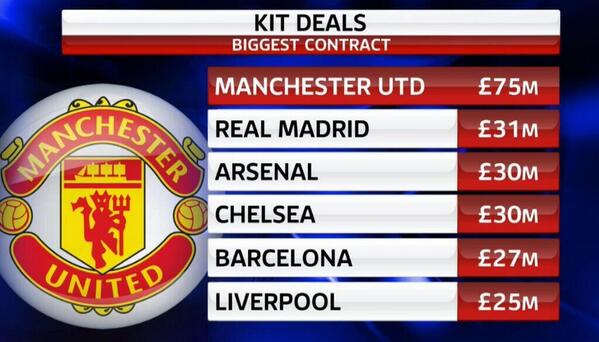 #mufc's £70m-a-year kit deal with adidas alone will earn as much as every ticket sold nxt season by the PL's eight 'smallest' clubs combined

— sportingintelligence (@sportingintel) July 14, 2014
Man United will be earning at least £122m a year from their kits from 2015-16 … £75m from Adidas & £47m from Chevrolet

— Rob Harris (@RobHarris) July 14, 2014
---