Manchester United cash balance up 8.3% to £72.1m after the final quarter of 2013 [Financial Table]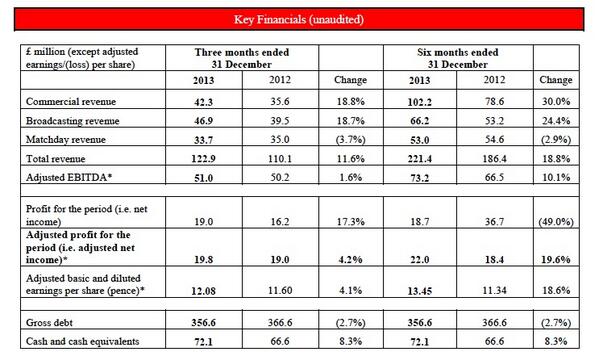 At least it's good news off the pitch for Manchester United.
Old Trafford released their latest financial statements for the final quarter of 2013 and the sunny update is that profits are up.
In news that will make the Glazers happy, and could help ease any pressure from the owners on the manager, Manchester United had a 8.3% lift in the cash balance at the club of £72.1m in Q4 of 2013.
Looking slightly deeper into the numbers, matchday revenue at Old Trafford was down 3.7%, while it's been reported that Manchester United have had an overall drop in income of 49% in last six months of 2013, however that drop was due to inflated earlier numbers stemming from a one-off tax credit the year before.
More analysis of Manchester United's latest financials can be read below.
United vice chair Ed Woodward: "The current league position, which everyone from the Team Manager down has acknowledged is disappointing."

— Rob Harris (@RobHarris) February 12, 2014
Man United wage bill soared 17 percent year-on-year to £52m in the last 3 months of 2013

— Rob Harris (@RobHarris) February 12, 2014
Commercial and broadcasting revenues up, so all going well off the pitch… #mufc

— Mark Ogden (@MOgdenTelegraph) February 12, 2014
Drop in #mufc income of 49 per cent for last six months due to a one-off tax credit the year earlier. #football

— Mark Ogden (@MOgdenTelegraph) February 12, 2014
Manchester United 2nd quarter financial results; hyping commercial income up 18.8%, six new sponsorships etc. Just what fans want to hear.

— David Conn (@david_conn) February 12, 2014
Manchester United income for 3 months to Dec 31 £123m (v big); interest paid £6m. Debts loaded on by Glazers still £341m. #mufc

— David Conn (@david_conn) February 12, 2014
Manchester United now spent £686m on debt, interest etc since Glazer's takeover in 2005. Huge money, dwarfs their spending on players #mufc

— David Conn (@david_conn) February 12, 2014
Forecast for 2014 financial year: revenue £420m-£430m

— Paul Kelso (@pkelso) February 12, 2014
---
GAMBLING CAN BE ADDICTIVE, PLEASE PLAY RESPONSIBLY