Man United fans use Jesse Lingard's loan to Brighton as another stick to whack David Moyes with [Tweets]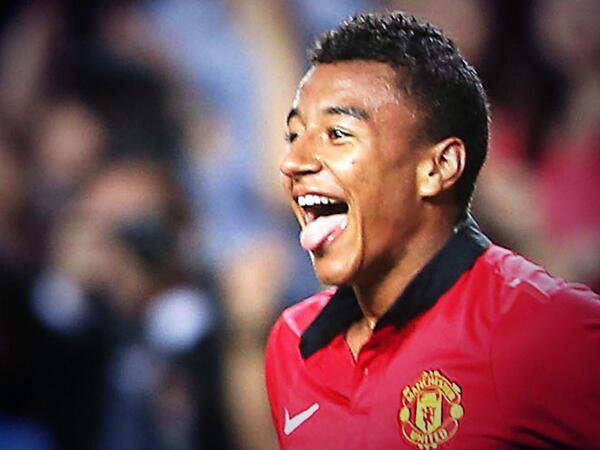 Sometimes you've got to feel for Manchester United's boss David Moyes.
Thursday lunchtime saw news break from Old Trafford that Jesse Lingard, the 21-year-old English attacking midfielder, was heading out on loan to Brighton for the rest of the season.
Lingard will join Brighton on a 93-day loan deal, which can be extended should the Seagulls from the Championship play-offs, as the youngster gains some much needed first team experience in England's second tier.
The move is the second loan spell on the bounce for Lingard after he was farmed out to Birmingham City. That loan spell was made famous for Lingard's 4-goal haul on his Blues debut against Sheffield Wednesday.
With so much anger and frustration pointed in David Moyes' direction after United's troublesome season, which was stoked by the poor performance at Olympiacos in the Champions League, Red Devils diehards have been quick to turn Lingard's loan move to Brighton into another axe to grind with their new Scottish boss.
Below are some of the harsh sentiments aimed at David Moyes after Jesse Lingard completed a loan move to Brighton.
Sending Lingard out on loan Moyes? WE APPROVE pic.twitter.com/9YO1dwlzJ6

— The Peoples Person (@PeoplesPerson_) February 27, 2014
Re:Lingard loan. Season's lost.Moyes should pin his managerial hopes on Utd youth, not trying to coax these useless plodders #clueless #MUFC

— Soccerates (@_Soccerates) February 27, 2014
Why loan out Lingard?? Moyes is a cunt why not give him first team experience not like our season ain't over and he has shown he deserves it

— Juggy Rai (@JuggyR) February 27, 2014
Honestly. Moyes needs to GO !!! Don't understand d logic of loaning Lingard n Zaha while the "useless trio" still command startn shirt

— *ThotzBox* (@TheIdeasAddict) February 27, 2014
And Moyes sends Lingard out on loan again? This guy is beyond retarded, the guys is better than both Young and Valencia! #MUFC

— kOSH. (@KamikazeKosh) February 27, 2014
Sending Lingard out on loan is yet another example of Moyes' reactionary tactics. There is no "plan". Not willing to try something that may

— GirlOnUtd (@GirlOnUtd) February 27, 2014
Why is Moyes loaning out Lingard He was our best player in pre-season, doing superb in the reserves, deserves 1st team. He hasn't got a clue

— Jonathan (@JonathanMusic_) February 27, 2014
Why are people upset about Lingard? He's not going to play over Rooney, Mata or Januzaj. Loan is the best thing for him.

— Rich Laverty (@JournoRich) February 27, 2014
The suggestion that Lingard wouldn't get into our team ahead of the likes of Kagawa, Young and Valencia is preposterous.

— Juan Matt-a (@BigRed_M) February 27, 2014
---