Man United's Phil Jones made The Face during poor, penalty-conceding performance v Everton [Best Tweets]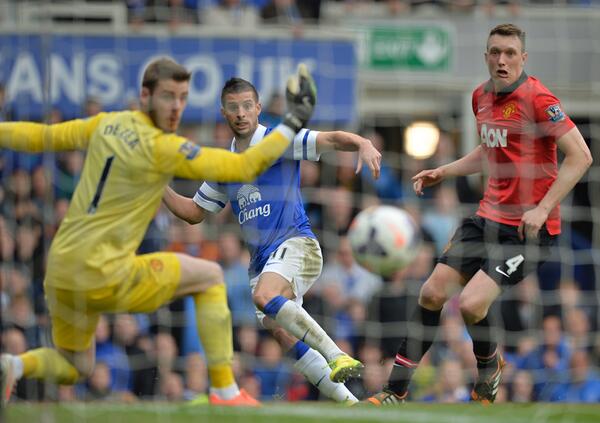 Bet on the Premier League and claim a free bet
Phil Jones had a bit of a mare at Goodison Park today.
The United defender comically conceded the penalty that Everton scored their first goal from, trying to save the ball as he lost his footing in the box, and picking up a booking for his amateur goalkeeping.
And it's on poor days like this that it seems barely believable that Alex Ferguson once prophecised that Jones could go on to Manchester United's greatest EVER player.
And for good measure, Jones pulled The Face as Mirallas pulled the trigger to score Everton's second.
Someone once described Phil Jones as a rolls Royce. Id say he's a Lada and Buttner is a robin reliant that's crashed into a tree

— FitbaThatba (@fitbathatba) April 20, 2014
Isn't that cheating from Phil Jones?

— Jim Boardman (@JimBoardman) April 20, 2014
If this result gets Moyes sacked then that was a brilliant decision by Phil Jones.

— BeautifullyRed (@BeautifullyRed) April 20, 2014
Haha Fergie saying Phil Jones will be the greatest ever united player is like Vialli saying Ambrosetti is the next Italian Ryan Giggs

— jody morris (@morriskid) April 20, 2014
Have you had a Phil Jones in the last 3 years? You may be entitled to compensation,call Alex Ferguson free on 0800 000 000 #moyesout

— Dario Ball (@dazHWO) April 20, 2014
Has the potential to be United's best player ever does Phil Jones. Isn't that right, Fergie?

— Dan (@LfcDan) April 20, 2014
---