Man United's Patrice Evra gets furious in interview with Téléfoot, slams French media as "bums and parasites"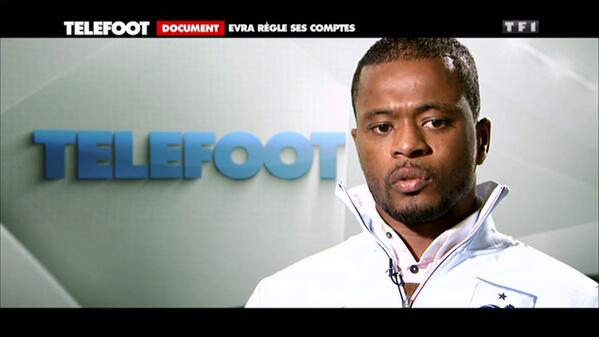 The big story in France on Sunday centres around an explosive interview with Manchester United defender Patrice Evra on Téléfoot.
Three years after it happened, Evra was quizzed about France's infamous Knysna strike at 2010 World Cup in South Africa, and the Old Trafford left-back snapped back on camera.
Evra claimed the certain journalists in France, whom he called "bums and parasites" were out to try to ruin his reputation.
They want to lie to the people of France, saying Evra is unloved. Arrogant? This is not true.
When I meet people in the street they are super friendly. I have no problem with people, just with pundits. I took [French pundit] Michel Fernandel on a visit to Old Trafford in 2008, he thought it was like Euro Disney. 
[Bixente] Lizarazu, I do not know what he has against me. He has his reasons. I do not know what Lizarazu has against me. He was never voted the best full-back in the world, like I was. With France, he did not shake my hand when I arrived, but he's like that.
After [the World Cup revolt in] Knysna, I went to eat in central Paris. It shows the French people like me. I am proud to wear the France shirt.
They should stop talking, they go too far. It does not hurt me at all because I am a happy man. There are many people who would like to be in my place. It does not affect me at all, but the problem is that it can affect my family. 
These bums should stop lying to France. They are parasites. 
Having finished their interview with Evra, Téléfoot then spoke to Lizarazu for his response. The former World Cup, European Championship and European Cup winner hit back saying:
This is appalling. To answer him, yes, I was voted the best left-back in the world and my CV spoke in my favour. But it's not important. He said that I did not shake his hand when he arrived in French squad. I do not remember crossing him. Look when I stopped and when he started.
In addition, the timing of his quotes is very bad because we will have a [World Cup qualifying] play-off in a month. Honestly, this is ridiculous. We had already lost him in South Africa, and now we lose him again. I have no dispute with him."
Watch Man United's Patrice Evra get furious in interview with Téléfoot (in French) below, together with Lizarazu's rebuttal.
---
GAMBLING CAN BE ADDICTIVE, PLEASE PLAY RESPONSIBLY