Man United's Di Maria was sent off for touching ref Oliver, but City's Joe Hart got away with a headbutt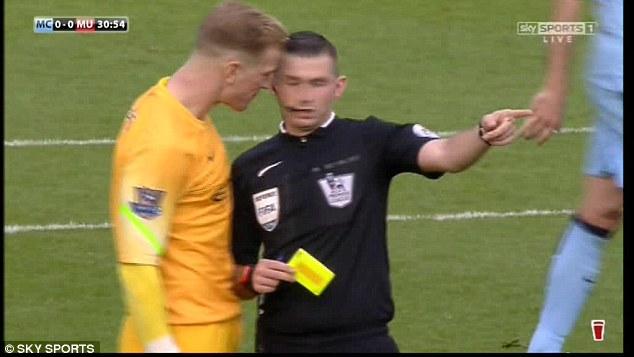 Back Real Madrid to beat Schalke at 2/1!!!
The day after Manchester United were dumped out the FA Cup by Arsenal, some Red Devils supporters continue to be agitated by Angel di Maria's red card.
Referee Michael Oliver's prime input into the game was sending off Angel di Maria for two offences in quick succession.
Just after the Argentine was booked for diving, Di Maria touched Oliver and received a lightning quick second yellow.
Some will argue that it was controversial and harsh – though the majority of reactions have supported Oliver's decision – but Di Maria should have known not to cross the man in black.
In fact, this wasn't even the first time he was sent off in this fashion. Di Maria looked like an idiot when he was dismissed from Real Madrid's game against Deportivo in 2013.
And yet, one incident from last season's Manchester derby is winding up some United fans.
While Di Maria was guilty of tugging the ref's shirt, Man City goalie Joe Hart previously pressed heads with Michael Oliver in the derby, but the England goalie got away scott-free.
The comparison between the incidents has given rise to plenty of chatter on Twitter, and some tweets can be read below.
According to many Man Utd fans Michael Oliver had a poor game last night cos he didn't send joe hart off last year! #footballfanslogic

— Matt Le Tissier (@mattletiss7) March 10, 2015
I am confused by this Michael Oliver/Joe Hart stuff. As Oliver got it wrong then, should he just continue to get it wrong? For consistency?

— Simon Gleave (@SimonGleave) March 9, 2015
The same referee that sent Di Maria off gave Joe Hart NOTHING for this.. pic.twitter.com/846cDPDgg4

— Jack Boorman (@UnitedHeaven_) March 9, 2015
Man Utd fans happy to show a photo of Joe Hart and Oliver. Unwilling to acknowledge their back four and Roy Keane chased Andy D'Urso.

— NUFCThreatLevel (@NUFCThreatLevel) March 10, 2015
---