Man United release a picture of Danny Welbeck & Tom Cleverley with blue & white footy shirts, jokes ensue [Tweets]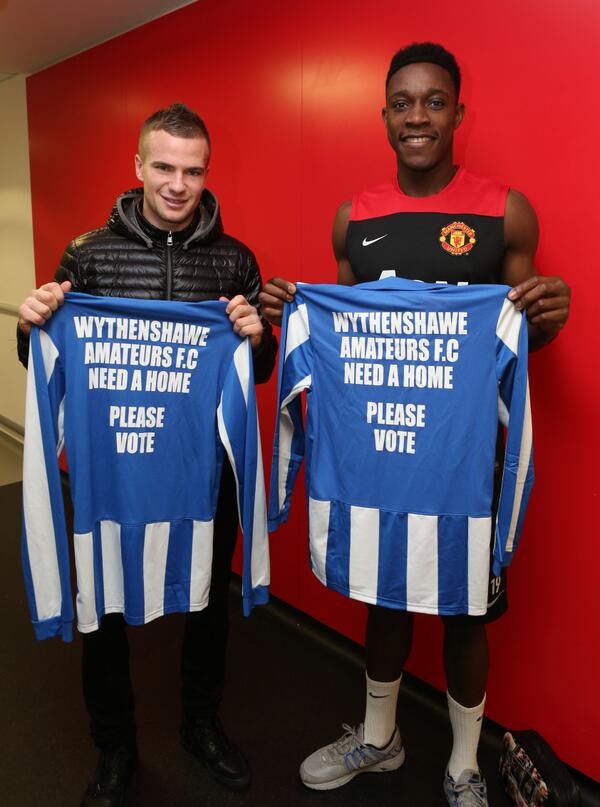 Manchester United released a picture on their official Twitter account on Monday which has attracted attention.
The picture featured Danny Welbeck and Tom Cleverley holding blue and white footy shirts. The picture can with the message:
Danny Welbeck and @tomclevz23 are backing Wythenshawe Amateurs' bid to win an FA grant.
On the Red Devils website there is more information about the project. "Manchester United is backing local side Wythenshawe Amateurs FC in their bid to win a £100,000 grant from the Football Association."
With David Moyes' side in the doldrums after their defeat to Stoke last Saturday, the sight of Welbeck and Cleverley holding non-United football shirts instantly sparked a slew of jokes.
Below are the best comments on the new Manchester United picture.
@ManUtd was hoping Cleverley had signed for them. Gutted.

— Gareth David (@grthdvd) February 3, 2014
@ManUtd @tomclevz23 I saw the picture and thought cleverley had signed for them. #disappointment

— Joe (@joemc679) February 3, 2014
@ManUtd @tomclevz23 you certainly fir that team,or maybe not, maybe you better be on the bench of that team.don't forget to bring Young!!

— Ahmad Madary (@AhmadMadary) February 3, 2014
@ManUtd @tomclevz23 Let's donate Cleverley to them…

— I am_KG (@KNtente) February 3, 2014
@ManUtd @tomclevz23 Finally looks like Cleverley has found his level

— Carl Speakman (@Crlspeak) February 3, 2014
@ManUtd @tomclevz23 why don't u both sign for them? U'll fit right in with ur style of football. Kmt

— Vianney (@Vianney_tv) February 3, 2014
---
GAMBLING CAN BE ADDICTIVE, PLEASE PLAY RESPONSIBLY