Man United manager Moyes explains to Tuttosport why he was at Cagliari v Juventus on Sunday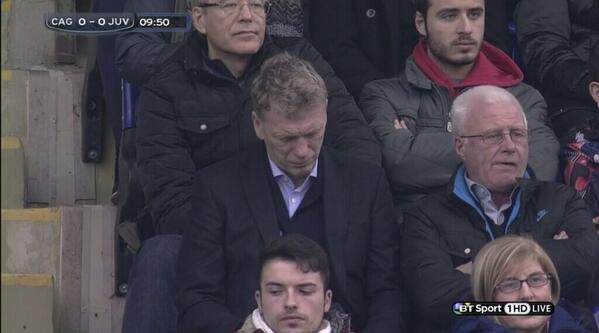 It was one of the images of the weekend…
Social media went haywire on Sunday afternoon when, out of the blue, Manchester United manager David Moyes was spotted at the Serie A match between Cagliari v Juventus.
Immediately chatter started spinning out of control over why the Red Devils boss was in Italy at the Serie A game, and moreover speculation began over which players Moyes could be scouting.
Whilst few people stopped to think about the likelihood that Moyes would do scouting for Manchester United personally, Cagliari defender Davide Astori and Juventus midfielder Claudio Marchisio and Arturo Vidal were immediately propped up as potential purchases for United this summer.
Now Italian website Tuttosport have published a short comment which they prised from Moyes explaining his presence at the Stadio Sant'Elia:
I'm here on vacation, I'm not scouting, they are no deals happening.
While Moyes appears to have explained himself, many may wonder how satisfying that comment is. While Man United struggle, their manager is off on holiday while he doesn't seem bothered about signing any players.
Although, maybe this is all a smokescreen. We'll have to wait and see.
---