Man United hero Roy Keane claims Arsenal have a 'selfie culture' [Telegraph]
The front page of the Telegraph's Sport section on Sunday has bad news for Arsenal, as former Manchester United man Roy Keane claims the Gunners have a "selfie culture" at their club.
The story comes out hours before Arsenal, the reigning FA Cup holders, face Premier League champs Chelsea in the Community Shield at Wembley.
The headline gives off the instant impression that Arsenal still lack the killer qualities necessary to win the title.
The Gunners last won the league with the Invincibles back in 2003-04
For the record, Roy Keane is quoted saying "Arsenal have got good players, really good players" but then the article goes on to quote Keano saying "there's too many Arsenal players interested in selfies, I think, whatever they are".
Keane fails to mention any of the selfie lovers by name, but one suspects that Jack Wilshere wasn't far from the pundit's thoughts.
After playing against Chelsea, Arsenal kick off their new campaign with a home match against West Ham next weekend.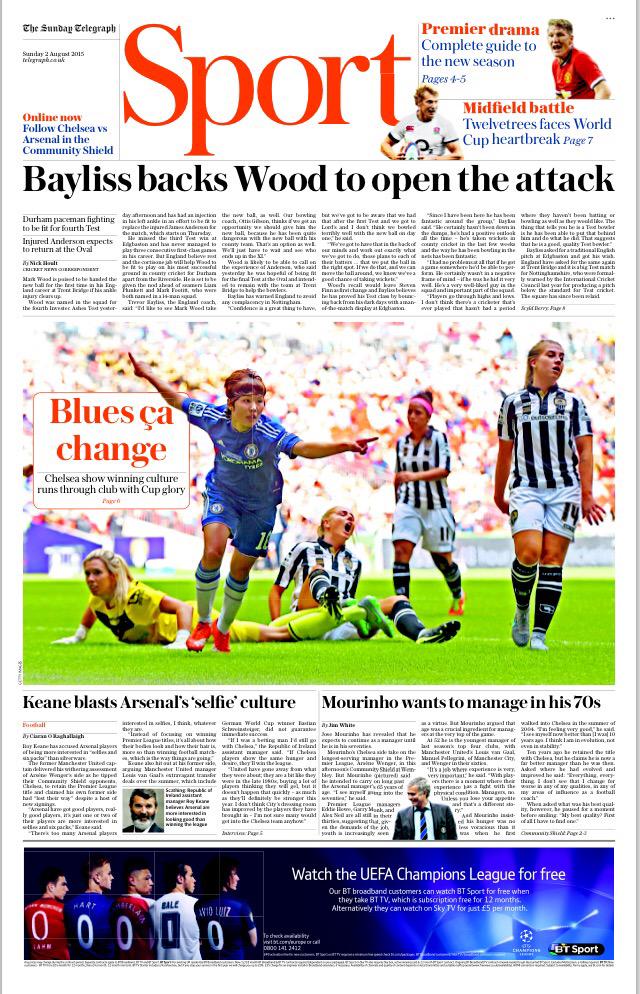 ---
GAMBLING CAN BE ADDICTIVE, PLEASE PLAY RESPONSIBLY