Man United defender Chris Smalling ridiculed for "suicide bomber" picture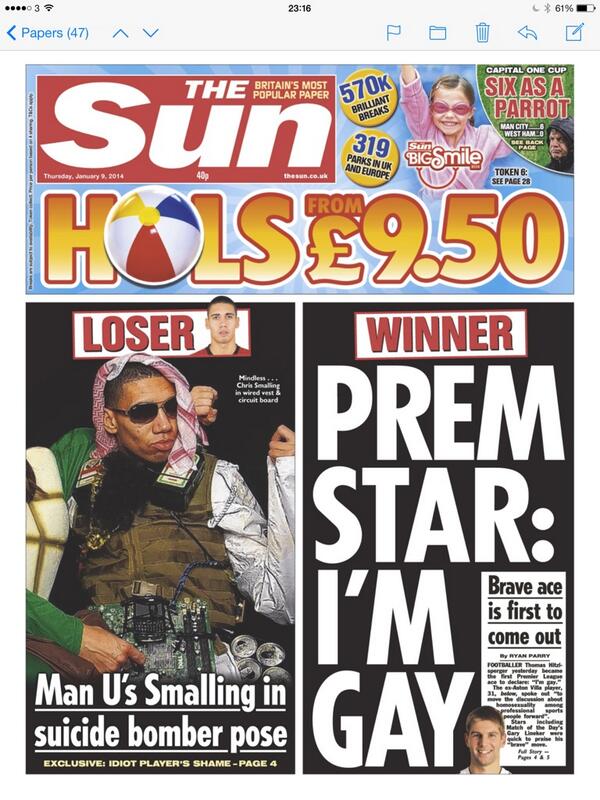 "Chris and his girlfriend hosted a fancy dress party to celebrate Christmas and their belated birthdays with close friends in the assumed privacy of his own home. He dressed in a costume consisting of empty bottles of Jagermesiter and cans of Red Bull strapped to his chest in an attempted comedy play on the popular 'Jagerbomb drink'. Although he fully accepts in hindsight it was an ill-thought out and insensitive decision, absolutely no harm was intended whatsoever and he apologises for any offence caused." – Wasserman Media Group statement.
Its a pretty shocking Sun front page on Thursday.
Whilst the right side praises Tomas Hitzlsperger, the left part shows Chris Smalling dressed as a suicide bomber.
According to Chris Smalling's management group, the outfit, which he was wearing in his own home, was an elaborate pun on the popular 'Jagerbomb' drink.
We can only wonder what Manchester United boss David Moyes thinks of this Sun front page after three successive 2-1 defeats at the start of 2014.
Whilst Smalling can perhaps be excused for meaning no harm, its actually rather worrying that an England international is so in thrall to alcoholic drink that he dresses up as one.
Predictably, Chris Smalling has been a figure of fun, ever since The Sun front page hit social media.
If Chris Smalling wants to look like someone else, a decent right back would be a good shout.

— Surge Biscuits (@NoHeroesHere) January 9, 2014
Smalling apologises, claims he was posing as 'Jager-bomber' not suicide bomber. Still stupid, but not as stupid. pic.twitter.com/wiJul3RPfc

— Piers Morgan (@piersmorgan) January 9, 2014
I'd still fire #Smalling for his defending though.

— Piers Morgan (@piersmorgan) January 9, 2014
What's the difference between Chris Smalling and Ryan Giggs? Giggs believes in 72 virgins before death

— Nooruddean (@BeardedGenius) January 8, 2014
I don't know why everyone's so surprised. Smalling's been Shi'ite all season. pic.twitter.com/bXJ36lXc6m

— Nooruddean (@BeardedGenius) January 8, 2014
Chris Smalling dresses up as suicide bomber. Lacks intelligence on, and off, the pitch it seems: pic.twitter.com/hZJdj8jrpv

— Samuel (@samuelj29060) January 8, 2014
Smalling could dress up as anyone & this would still be the most ridiculous photograph of him… pic.twitter.com/ydZoFkSjod

— Fino (@Fino76) January 8, 2014
Oh Chris Smalling, oh dear oh dear! Because United didn't need any more negative press or anything. LOL.

— Philippa Ruscoe (@prusci25) January 9, 2014
This might be the first time Chris Smalling has truly terrorised the left wing.

— David Shaw (@lfcmaestro23) January 9, 2014
Smalling shouldn't be apologising for his costume more like apologising for being out partying when the team is playing shite #knuckledown

— Lee Baston (@bast337) January 9, 2014
---
GAMBLING CAN BE ADDICTIVE, PLEASE PLAY RESPONSIBLY