Man City's Nasri isn't taking calls from Yanga-Mbiwa so the defender apologises for that tackle in L'Equipe
Monday brought a slight ray of sunshine for Manchester City midfielder Samir Nasri.
Fears were heightened over the weekend that Nasri had seen his season and 2014 World Cup hopes come to a premature end after the City midfielder had been horrifically hacked from behind by Newcastle defender Mapou Yanga-Mbiwa on Sunday.
Happily for the player, City fans and French football fans, Nasri announced on Monday that scans had shown he'll only be out of action for eight weeks, however that news appears to have failed to made Yanga-Mbiwa feel any better, as the Newcastle defender appears riddled by guilt for his nasty foul on his countryman.
A war of words has built up in the French press between Yanga-Mbiwa and the Nasri clan, with Samir's dad Abdelhamid, telling Le Parisian on Monday that he believed the tackle was spiteful:
David Ginola, who was commentating on the game, also went to see Samir. He regretted what Mapou Yanga-Mbiwa had done and told Samir, 'It's not good what he did to you – he was beaten, he kicked you hard to hurt you'.
I have that feeling too. He did it nastily, the boy was beaten first time and did it with the second challenge. And it wasn't to try and get the ball back where he hit. It's just gratuitous nastiness.
It's so disappointing. If you don't want to let him get past, you pull his shirt, you hold your opponent back, but you don't attack his legs. They are a player's work tools.
Now Yanga-Mbiwa has had his say on the matter in Tuesday's L'Equipe, and the Magpies' version of events since that tackle suggest that despite his best efforts to apologise, Samir Nasri is holding a grudge against the defender.
Yanga-Mbiwa has explained "I've tried to call, but there is no answer. I've left a message. I want to apologise in person. I was sorry… I'm relieved the injury is only 8 weeks. I felt very bad that the World Cup may be in danger. I never had any intention to hurt Nasri, there was no malice at all."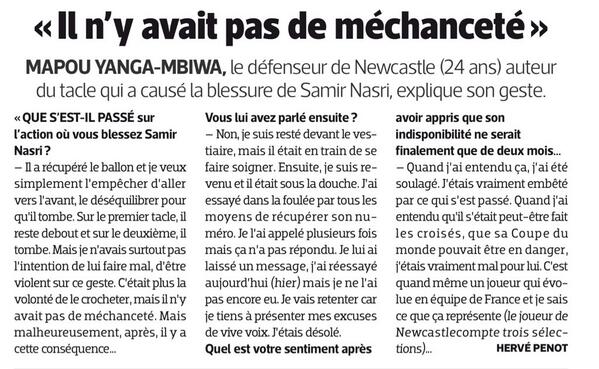 Looking in from the sidelines, some football fans may have slight sympathy for Yanga-Mbiwa as Samir Nasri hardly had the best record for making clean tackles in his career either.
In particular, back on April 2013, Nasri came under a hailstorm of abuse after the City player caught Tottenham defender Kyle Walker on the shin with a terrible studs up challenge which went unpunished. Whilst not claiming two wrongs make a right, Nasri should try and remember that he isn't the best tackler in the world either.
---
GAMBLING CAN BE ADDICTIVE, PLEASE PLAY RESPONSIBLY