Man City & Man United top transfer window net spend Premier League table [Picture]
"Fella, talk about net spend. Don't talk about spend. Talk about net spend."
Ok, Moh from ArsenalFanTV. If it matters that much to you, we'll talk about net spend.
With the transfer window being slammed shut yesterday evening, some kind soul – @Sportingintel – has put together a net spend table from this summer's record breaking Premier League transfer window.
Manchester City lead the way by some distance with a net spend of £101.3m, largely due to the mega signings of Raheem Sterling, Kevin De Bruyne and Nicolas Otamendi.
Having sold Premier League record signing Angel Di Maria to PSG for £45m, Manchester City's local rivals Manchester United take 2nd spot in the table with a net spend of £43.4m.
Newcastle United, Chelsea and newly promoted Watford make up the rest of the top 5 whilst 'King of the Net Spend' Arsenal can be found way down in 15th place.
The Saints lie bottom of the table with a net spend of only 3.2m, closely followed by Stoke City with a net spend of £3.3m.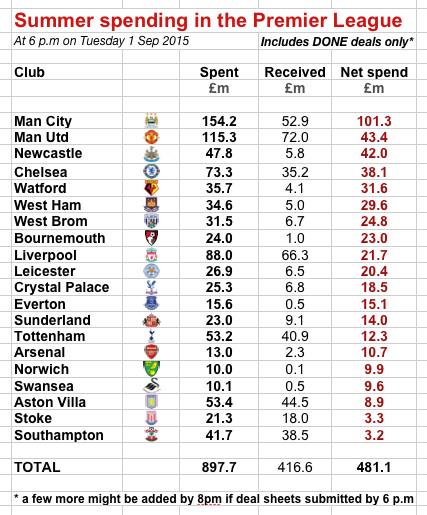 ---