Madman Gary Medel gets his 7th (!) Sevilla red card v Real Betis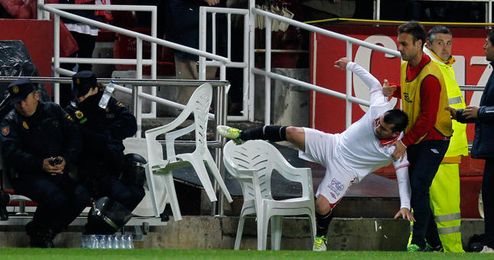 Sevilla's Gary Medel is one of La Liga's cult heroes, and he proved it once again in Friday night's Seville derby against Real Betis.
With his side leading 3-1, he needlessly overreacted to deliberate provocation from Betis' Jose Cañas, walked the plank, and arguably cost his side the win, in what was clearly the turning point of the match.
The Chilean hothead has now amassed a whopping 7 red cards in 89 games since arriving from Boca Juniors in 2011.
An average of a sending off every 12 or so games!
By Medel's high standards, this wasn't one of his best nor proudest sendings off.
Going in for a challenge with Betis' Jose Cañas, there were some afters as Cañas didn't appreciate the strength of the tackle.
Cañas raised his hands first with a push, to which Medel replied with a bit of a wussy slap in the face,for which he was inevitably sent off.
Watch Gary Medel's 7th (!) sending off for Sevilla in just 89 games on the clip below.
Medel red card
por Samu21213
Click here for more Premier League betting tips
---