Luiz Felipe Scolari: "Responsibility for the catastrophic outcome is all mine"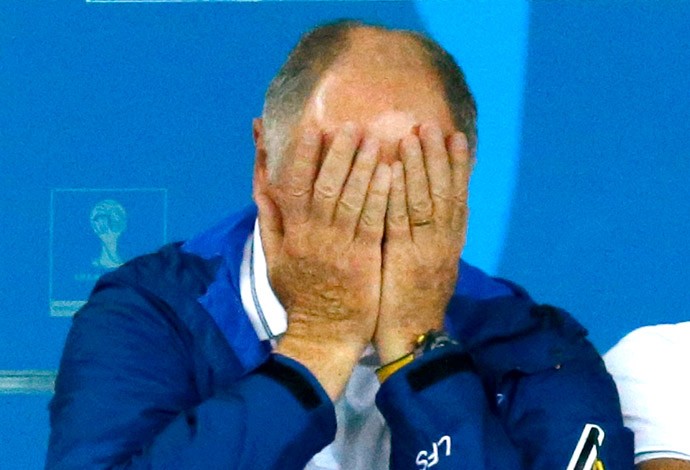 How do you explain the unexplainable?
Well, Luiz Feliper Scolari certainly tried after Brazil's historic 7-1 mauling at the hands of Germany in what must have been one of the hardest post-match press conferences of his life.
As many suspected when they saw Scolari speaking to his players on the Belo Horizonte pitch after the Germany rout, the Brazil boss took full responsibility for the defeat.
The money quote from the presser was undoubtedly: "Who is responsible for the outcome? I am. The responsibility for the catastrophic outcome is mine. I was responsible."
Then Scolari tried to explain a remarkable six-minute spell: "We have done our best. We lost to a great team, which, in six minutes, won the game with three or four goals. We crashed after the first goal. They took advantage of this and we could not react. I apologise for the negative result."
Scolari tried to temper a root and branch review into Brazilian soccer that many have called for in the hours since the defeat, pointing to wins over Chile and Colombia.
He argued: "Change? Why, because we lost one game today? This team will have twelve, thirteen players in the next World Cup in 2018. This team of Germany played the 2010 World Cup. Played in Euro 2008 and is now in the final. Of the players who are there at least a dozen will be in 2018. This maybe the worst defeat of the World Cup, but it is a path that we have to learn from."
When asked if Neymar would have made a difference, Scolari said: "It could happen with Neymar on the field. He could not defend those moves. There is no reason to think that with Neymar it would have been different."
And, finally, Scolari was questioned on whether it was the worst defeat of his career: "It was probably the worst. I have lost other games. When you lose one, four or five it is always the same because it is the feeling of not being able to change the landscape of the game. If you think of my life as a coach, as a player, it was the worst day of my life. But life continues. I'll be remembered for losing by 7-1. But it was a risk I knew I was running. The risks we assume, we have to and move on in life. That's what I'll do."
Excellent odds: Lionel Messi is 4/1 to score anytime for Argentina against Holland!!!
---