Luis Suarez: I have a contract with Liverpool & my daughter sings You'll Never Walk Alone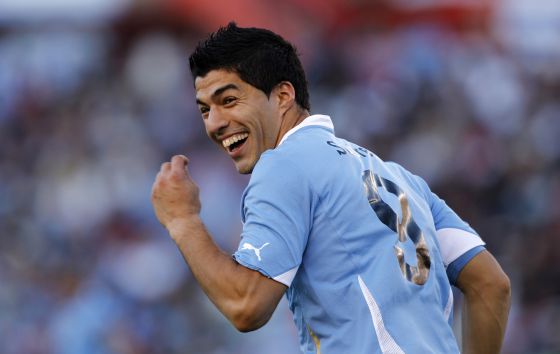 Luis Suarez has once again given an interview to a Spanish publication, this time El Pais, and opened up on how he feels at Liverpool and his future at Anfield.
Ahead of tonight's Confederations Cup match between Uruguay and Spain there will be plenty of focus on Suarez, especially as the Liverpool striker can go level with Diego Forlan as top goal scorer for his country on 33 goals.
After discussing the challenge of facing world and European champions Spain as well as what it would mean to score against Liverpool team mate Pepe Reina, El Pais discuss the rumours of a Real Madrid move for Suarez.
First off, Suarez answers whether he "fears" playing for Real Madrid. The Liverpool striker answers: "I have never feared the pressure. But that does not mean anything. I am a Liverpool player."
El Pais then ask what he would bring to a team like Madrid. Suarez: "I will give my soul every time I step on the pitch. I have done this with Uruguay, Ajax and Liverpool. I do not hold anything when I finish a game."
When asked flat out if he has an agreement with Real Madrid, Suarez says: "No. I have a contract with Liverpool."
Suarez is then questioned as to whether he would like to play for Real Madrid: "A player always aspires to be at the top of their profession and Madrid is at the top for any football player. But, do you know what it is like to play for Liverpool?"
The Uruguayan continues and gives very mixed messages: "It disturbs me that Liverpool are not in the Champions League every season. I've suffered at Liverpool,but when I think of what it represents to play for this club, & the love my daughter has… she sings the hymn… The hairs on my neck stand up when I play at Anfield."
Finally, Luis Suarez talks about that bite on Branislav Ivanovic, that rocked English football: "How much can one bite sully all the goals I've scored? … If people knew the stuff that happens to me on the pitch, the kicks, the insults,they wouldn't judge me. I could write a book on it."
Why you need a VPN?
Cut chords:
Watch everything (Netflix, BBC iPlayer, Hulu) online using a VPN.
Unlock geoblocking:
A VPN gives you access to the best content from anywhere in the world.
Privacy & security:
A VPN keeps your information private, activity encrypted & data anonymous.
Just $6.67 a month + 3 months free!
Best football betting tips & free bet offers
Click here for more Premier League betting tips
---