Luis Enrique shakes hands with Mauro Tassotti 17 years after broken nose at USA 94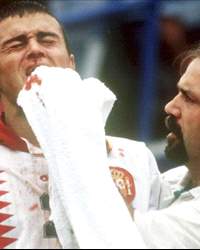 Before Roma's Serie A encounter with AC Milan on Saturday night, Luis Enrique promised to make up with Mauro Tassotti, 17 years after he had broken his nose.
During Italy's 1994 World Cup quarter final win over Spain, Tassotti elbowed Luis Enrique with the image of the former Barcelona and Real Madrid midfielder covered in blood one of the moments of the tournament.
Enrique subsequently lost a pint of blood as it gushed down his face and FIFA banned Tassotti for eight matches. The former AC Milan right back was hugely fortunate not to give a penalty away but never played for the Azzurri again.
Luis Enrique, now coach of Roma, and Tassotti met for the first time on the sidelines with the latter on the coaching staff of the Rossoneri.
Before the game Luis Enrique said: "I know that he is sorry for what he did and I'll shake his hand," with the media in both Spain and Italy spending much of the week building up to the pre-match meeting.
Footage of Luis Enrique's historic handshake with Mauro Tassoti pre Roma 2 – AC Milan 3 is here.
Video of the USA 94 incident, which explains why Tassotti looks a little sheepish 17 years later, is on this video.
Why you need a VPN?
Cut chords:
Watch everything (Netflix, BBC iPlayer, Hulu) online using a VPN.
Unlock geoblocking:
A VPN gives you access to the best content from anywhere in the world.
Privacy & security:
A VPN keeps your information private, activity encrypted & data anonymous.
Just $6.67 a month + 3 months free!
Click here for more Premier League betting tips
---