Louis van Gaal hailed as a genius again for bringing Tim Krul on to win Holland penalty shoot-out v Costa Rica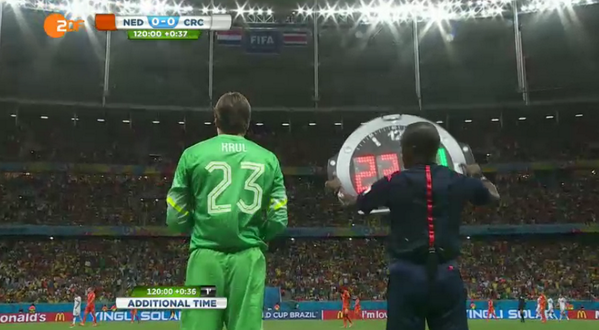 Louis van Gaal has big Cojones!
Late on in extra time of Holland v Costa Rica, it emerged that Newcastle keeper Tim Krul was warming up.
On 120 minutes, just as penalties were nearing, Tim Krul replaced Jasper Cillessen in the Netherlands goal.
Thanks to Louis van Gaal, this is the first time at the World Cup that a goalkeeper comes on as a sub solely for the penalty shootout.
Was it because Krul is a better shot stopper than Cillessen?
Or, merely psychological as Holland have a woeful record in extra time at World Cups and generally with penalty shoot-outs.
Tim Krul duly saved Costa Rica's second penalty from Bryan Ruiz.
Then the Newcastle keeper saved the final Costa Rica penalty from Michael Umana and then the Louis van Gaal love poured in!
Legendary!!!!
If only Louis van Gaal was brave enough to make game changing decisions in a big game. He looks like a genius all over again #NEDvsCRC

— Kevin Palmer (@kpsundayworld) July 5, 2014
The substitution that won it! #NED pic.twitter.com/fF641WSSF6

— Squawka Football (@Squawka) July 5, 2014
Incredible. #MUFC fans now have a manager who can out-mind game Fergie. WHAT a #WorldCup story. #NEDCRC #NED pic.twitter.com/sXUXUIHD7k

— Alex Stone (@AlexStone7) July 5, 2014
Krul dived the right way 5 out of 5. WHAT WITCHCRAFT IS THIS

— Ben Burrows (@benburrows_) July 5, 2014
Pure Genius! pic.twitter.com/HU2afgcXS7

— Troll Football (@Troll__Football) July 5, 2014
Tim Krul penalty-saving star on FIFA 2015: Guaranteed.

— Nikolas Postinger (@nikpostinger) July 5, 2014
Louis van Gaal and his coaching staff walking into the dressing room like.. pic.twitter.com/1oumOZZX35

— Not Match of the Day (@NOT_MOTD) July 5, 2014
Van Gaal will - win the World Cup - be pope - win an Oscar - invade all European countries - be boyfriend with Beyonce

— Jan Aage Fjortoft (@JanAageFjortoft) July 5, 2014
2 – Tim Krul saved as many penalties in this penalty shoot-out (5 faced) as he saved from his previous 20 PL penalties faced. Timing.

— OptaJohan (@OptaJohan) July 5, 2014
Big, bold decision from Van Gaal to bring on Krul. Will be analysed endlessly. Bottom line: he saved two & they won. Nowt else matters

— Sam Wallace (@SamWallaceIndy) July 5, 2014
Frans Hoek congratulating Tim Krul. This is actually something Van Gaal and his staff though about beforehand.

— Elko Born (@Elko_B) July 5, 2014
CLASS: Jasper Cillessen the first player to run over to Tim Krul after he saved the deciding penalty. pic.twitter.com/8800BygKzi

— BBC Sporf (@BBCSporf) July 5, 2014
Van Gaal basically found the one way to look like a genius after needing penalties to beat Costa Rica. What a man.

— Callum Hamilton (@Callum_TH) July 5, 2014
Good shot of Tim Krul going through his warm up with a full ten mins left. All planned pic.twitter.com/H6Az2gZyxi

— Jonty Whitehead (@Jontywhitehead) July 5, 2014
---
GAMBLING CAN BE ADDICTIVE, PLEASE PLAY RESPONSIBLY