Lots of people think the Aaron Ramsey scoring curse is back [Tweets]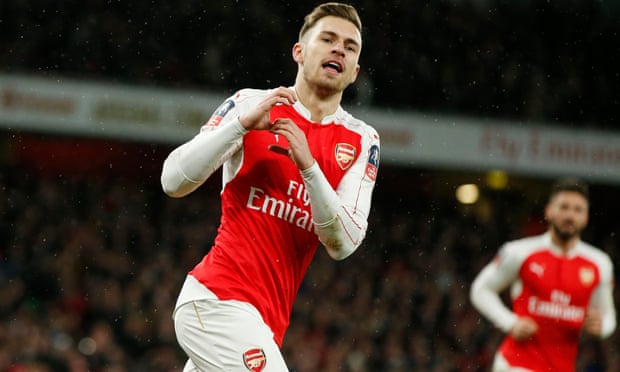 Here we go again.
Aaron Ramsey isn't cursed. Yet, its undeniable that a string of famous personalities have all seemed to die immediately after the Arsenal midfielder finds the target.
Many people have today cited the return of the Aaron Ramsey curse after the passing of actor Alan Rickman.
To suggest the two incidents are connected is foolish, and yet that's exactly what many are doing.
It's worth noting that the Arsenal midfielder isn't a fan of his so-called curse.
Back in June 2015, Ramsey recently gave an interview to Bleacher Report in which he spoke about wanting to become the new Steven Gerrard.
The interviewer, Alex Dimond, tweeted a transcript of a hilariously awkward deleted scene from the interview in which Ramsey was remarkably unamused by questions linking him to celebrity deaths.
Colonel Gaddafi, Steve Jobs, Osama Bin Laden and Whitney Houston are just some of the famous celebrities who have died incredibly soon after an Aaron Ramsey goal. But the player doesn't think it's funny.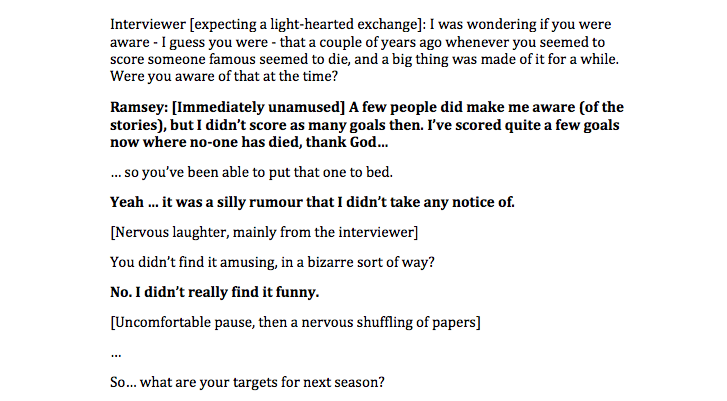 See how the Aaron Ramsey curse has reared it's ugly head again.
First Aaron Ramsey's goals killed David Bowie, and now he's gone and bloody killed Snape from Harry Potter. #bas*ard

— SportsJOE.ie (@SportsJOEdotie) January 14, 2016
Aaron Ramsey scored last night didn't he…?

— Michael Graham (@Capt_Fishpaste) January 14, 2016
Aaron Ramsey scores, another celebrity dies…

— West Ham Central (@WestHam_Central) January 14, 2016
Aaron Ramsey should be sent to Azkaban. This, indubitably, is an indication of the involvement of dark magic.

— Liverpool FC 360 (@LFC_360) January 14, 2016
The Aaron Ramsey scoring curse is genuinely getting a bit creepy now..

— Henry Dean (@HDean0) January 14, 2016
Bowie and Rickman to be added to this already illustrious Aaron Ramsey hit list. pic.twitter.com/gx1wEsKkTd

— Oddschecker (@Oddschecker) January 14, 2016
567 Tweets on WADA and 17.8 thousand on Aaron Ramsey being a harbinger of death.

— Teddy Cutler (@TeddyCutler) January 14, 2016
The Aaron Ramsey curse continues….kinda weird pic.twitter.com/XNfepYqubw

— Aaron (@GymKardashian) January 14, 2016
There are rumours that Robert Mugabe had a heart attack. Let's hope Ramsay scores tonight #ramseycurse

— Trevor Green (@trumpi) January 13, 2016
Some celebrity is dying tomorrow then right, the Ramsey curse and all.

— CallMeDrStrangelove (@NoIdentityFound) January 13, 2016
Click here for more Premier League betting tips
---