Losing Victor Valdes to injury is a HUGE blow to Barcelona & bad news for Spain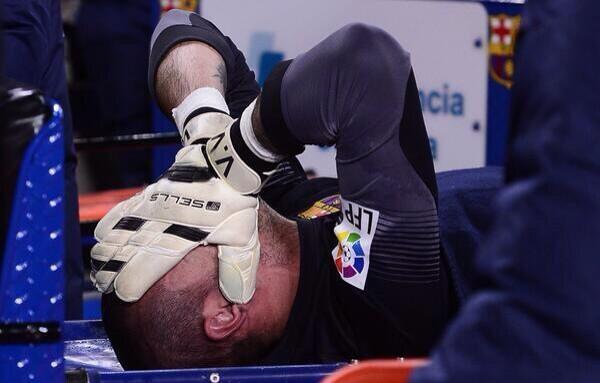 For many years, Victor Valdes was considered a bit of a joke.
Whilst Barcelona Tiki-Taka'd past the best teams in Europe, there was always the suggestion that their defence could be got at and their goalkeeper was liable to making a mistake.
Having played nearly 400 games for Barcelona though, Valdes has steadily improved and could comfortably count himself as one of the best goalkeepers on the planet.
Amazingly, there are still some football fans who felt Valdes was a liability but over the past couple of seasons he has been hugely impressive.
In recent months, there seemed to be a desire about him to finish his career at Barcelona on a high and Valdes now has presence as well as the ability to make match winning saves.
Mistakes were very few and far between in 2013/2014 and the Barcelona number one was regularly pulling off stunning stops.
By rights Valdes should have got nowhere near Karim Benzema's headed goal in El Clasico, the fact he got a hand to it explained his incredulous look when it creeped in.
Now Barcelona do have a dodgy keeper. Jose Manuel Pinto comes across as an enthusiastic member of Tata Martino's squad but at 38 is not the goalkeeper he once was at Celta Vigo.
And Pinto has never been world class.
Perhaps Barcelona erred in not bringing back Pepe Reina or bringing forward Marc-André ter Stegen's move from Borussia Mönchengladbach?
Don't be surprised if Victor Valdes' injury has a tangible effect on Barcelona's chances of silverware this season.
For Spain its a different story.
Vicente Del Bosque is stacked with world class goalies as evidenced by the fact that Valdes looks likely to be replaced in the La Furia Roja squad by either David De Gea or Diego Lopez.
Nevertheless, to have a motivated first choice Victor Valdes at the World Cup could have been crucial to Spain's enthusiasm to reclaim their World Cup trophy.
The real "winner" from all this looks to be Iker Casillas. Who in the space of around four days is now being trumpeted to reclaim his place in goal in all competitions for Real Madrid, with Lopez conceding six in two games, and is now the undoubted Spain number one for the World Cup.
Meanwhile, Valdes has played his final game for Barcelona, although there are rumours he will be offered a new deal at the Nou Camp if he cannot find a new club.
In recent weeks Manchester City became favourites to sign Valdes but will they and Monaco (who reportedly have a pre-contract agreement) get itchy feet on a 32-year-old with a serious injury who has never played outside La Liga?
Where Valdes plays next season will have to wait a few months but this injury will likely prove just how important the much maligned keeper is to Barcelona.
#ànimsValdés
---