Liverpool fans expect Chelsea's Diego Costa to be banned just like Luis Suarez was for biting [Tweets]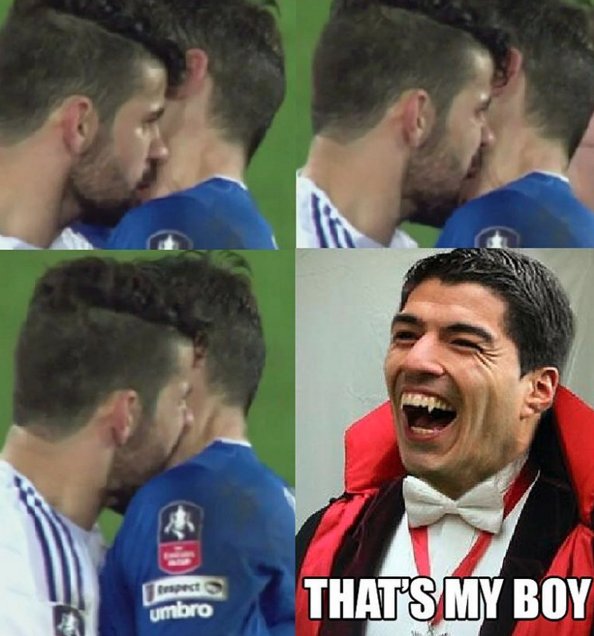 No sooner had Diego Costa appeared to bite Gareth Barry, 'Luis Suarez' started trending on social media.
Also see: Did Diego Costa bite Gareth Barry for Chelsea red card at Everton?
Back in 2013, when Suarez was still a Liverpool player, the Uruguayan sunk his teeth into Chelsea defender Branislav Ivanovic.
Suarez later apologised for his appalling behaviour, however that didn't stop the FA issuing the Liverpool forward with a 10-game ban.
Of course, Suarez had previous biting history before he sunk his teeth into Ivanovic.
But, leaving the rap sheet to one side, will the same punishment be applied to Costa?
Were that to happen, the Spanish international striker would see his season end today.
But are there any differences between the Costa and Suarez incidents?
Many fans seemed to think so.
Below are the best tweets on Diego Costa, Luis Suarez, and the horrible topic of biting in football.
Of course Costa won't get a similar ban to Suarez because it's not the third time he's tried to have dinner on the pitch.

— Sport Witness (@Sport_Witness) March 12, 2016
'If this was Suarez…' – Behave, it'll be massive anyway, and it's the first time Costa has done it.

Plus… he's not been racist.

— Sport Witness (@Sport_Witness) March 12, 2016
Is human flesh a delicacy in South America or do these guys just enjoy eating fellow players? #Costa #Suarez

— Mr Marmite DT © (@DeejayDt) March 12, 2016
Let's see if Costa gets the same slating as Suarez. Dirty biting someone. But it was Barry tbf. Can't help but like the bloke. #GoodPlayer

— Tom Brown (@TomBrown1986) March 12, 2016
I call it the Luis Suarez hat trick: 1 spitting at referee, 1 biting another player, 1 red card. Congrats to Diego Costa!

— John Gramlich (@johngramlich) March 12, 2016
Lets hope there is a witch hunt out on costa like there was on suarez! 10/12 game ban! But i some how doubt they will as its not lfc!

— ! (@1st_love) March 12, 2016
I'm already hearing loads of people say Costa is significantly differ t to Suarez. What a joke. Deluded

— Chris R (@whatahitson) March 12, 2016
BBC just brushing it off as if nothing happened with Costa there? Don't remember them being that easy on Suarez.

— The Anfield Chat (@TheAnfieldChat) March 12, 2016
All Revealed… Costa.. Cousin of Suarez. Nice chomp on Barry there

— Stuart Holden (@stuholden) March 12, 2016
Suarez is twice the player Costa will ever be and the media hated him from day one

— Keep the faith. #AFC (@_The12thMan) March 12, 2016
Diego Costa wants to be Suarez so, so badly.

— John Green (@sportswithjohn) March 12, 2016
The authorities now need to slap Diego Costa with the same type of ban that Luis Suarez received, otherwise there'd be ?marks #Chelsea #LFC

— Ignat Football (@IgnatFootball) March 12, 2016
If the @FA want to be fair then Costa has to get a 10 game ban like Suarez did pic.twitter.com/94Vo9povkM

— Talk of the Kop (@KopTalk2) March 12, 2016
Hope Costa gets a ban like Suarez, if not worse, what scum he is

— Dan Firminooo (@Dan11XD) March 12, 2016
3 years ago, Chelsea fans were calling for Suarez to be banned for biting…

We cannot even pretend that Costa does not deserve a ban now.

— Uber Chelsea FC (@UberCheIseaFC) March 12, 2016
If anyone thinks Costa didn't attempt to bite Barry you're a fucking bellend. BAN COSTA! Minimum 5 games, Suarez got banned! #CFC mugs!

— Shannan Marvin (@S_Marvin8) March 12, 2016
@johncrossmirror Exclusive footage of the incident. pic.twitter.com/wHgctKbr0p

— Wooden Head (@wooden_head) March 12, 2016
Click here for more Premier League betting tips
---