Live football streaming: Watch Barcelona v Malaga in the Copa del Rey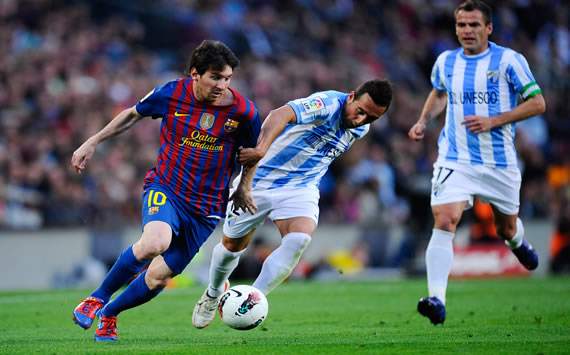 Watch Barcelona v Malaga in the Copa del Rey on our live football online video streaming service via Bet365.
It's deja vu in Spain on Wednesday night as Malaga face Barcelona for the second time in as many matches in the quarterfinal first-leg of the Copa del Rey.
So how can you watch Barcelona v Malaga on our live video streaming service?
Bet365 are showing Barcelona v Malaga live, legal and straight onto your computer via 101 Great Goals. Simply click on this link or the Live Streaming tab above and follow the simple step-by-step instructions to watch.
NOTE: Be aware that Bet365 have some geographical restrictions on this broadcast, whilst those without a Bet365 account will need to deposit money in an account to watch the match.
Barcelona v Malaga is not available in the UK and Ireland but can be watched in the following countries: Austria, Belgium, Bulgaria, Canada, China, Croatia, Cyprus, Czech Republic, France, Germany, Greece, Hungary, Israel, Italy, Netherlands, Poland, Portugal, Romania, Serbia, South Africa, Switzerland, Turkey and Ukraine.
On Sunday night in Malaga, Barcelona moved that much closer to winning La Liga with a 3-1 away win, and few people who watched the last meeting between these sides will be predicting anything but another Catalan victory in the cup.
Malaga are a club on verge of being a major player in Spanish and European football if they could just get some consistency together.
After finishing fourth last season, Manuel Pellegrini has continued to work wonders with La Rosaleda by establishing them as a top four club in the Spanish top flight, whilst also propelling them into the knockout stages of the Champions League after having won their group at a breeze. But, as the recent 1-0 defeat to Depor demonstrated, Malaga still lack the ability to be consistently good.
Malaga always look capable of getting on the scoresheet. With the likes of Isco, Roque Santa Cruz, Eliseu, Joaquín, Diego Buonanotte and Javier Saviola in their squad, there is more than enough talent in the squad to cause Barca problems.
Moreover, Malaga's real strength this season has been at the back. Experienced defenders Martin Demichelis and Weligton have helped make Malaga one of the stingiest backlines in Spain, but trying to shut out Lionel Messi, David Villa, Xavi and Andres Iniesta is arguably the toughest assignment in world football.
Nothing pre-match suggests that Malaga can pick up a shock win at the Nou Camp, but Manuel Pellegrini would no doubt be satisfied if his team can restrict Barca to a one-goal advantage heading into the second leg.
Watch Barcelona v Malaga live, legal and online via Bet365 here.
Check out the full listing of all the week's live streaming online & legal games here.