The best Pictures, Tweets & Videos from the 2013 Ballon d'Or (ft. Pia singing)
Pia Sundhage wins coach of year award and is singing on stage! So great. (Sepp will fine her) #uswnt

— Steven Goff (@SoccerInsider) January 7, 2013
Click below the fold for all the pictures, videos & more….
Messi: "My suit? I picked it, just wanted something different this time, shouldn't always be the same." #fcblive #ballondor — barcastuff (@barcastuff) January 7, 2013
Messi just arrived!Not sure about his suit…#BallonDor — Jan Aage Fjortoft (@JanAageFjortoft) January 7, 2013
The FifPro World XI is announced.
How is RVP not in team of the season?? #fifa — Rio Ferdinand (@rioferdy5) January 7, 2013
  The new mascot for the Brazil 2014 World Cup looks like a mix of Sonic The Hedgehog and Bowser from MarioKart. — Jimmy Conrad (@JimmyConrad) January 7, 2013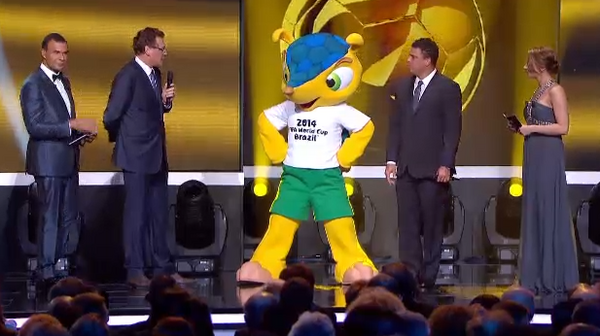 Cristiano Ronaldo and Pep Guardiola support Kevin Prince Boateng's stand against racism.
It's rather awkward for Blatter to be calling out Boateng for walking off after racial abuse when the man to his left, Gullit, advocated it. — LeanderLastNameNoFit (@LeanderOnFOX) January 7, 2013
Jaap Staam??!? RT @fifacom: #Ballondor nominee @cristiano arrives on the red carpet at the FIFA Ballon d'Or Gala 2012 – twitter.com/FIFAcom/status… — MirrorFootball (@MirrorFootball) January 7, 2013
Cristiano Ronaldo just got out of a tanning bed twitter.com/BuzzFeedSports… — BuzzFeed Sports (@BuzzFeedSports) January 7, 2013
GerardDepardieu perfect for the part of Sepp Blatter in the movie of his life — pete jenson (@petejenson) January 7, 2013
These dancers will all be booked for removing their shirts. — Andrew Thomas (@Twisted_Blood) January 7, 2013
Vicente del Bosque looks delighted to be at the ceremony twitter.com/FootyMemes/sta…

— Footy Memes (@FootyMemes) January 7, 2013
Speaking of the Ballon d'Or. Always liked how Baggio has his on a sideboard twitter.com/JamesHorncastl…

— James Horncastle (@JamesHorncastle) January 7, 2013
---
GAMBLING CAN BE ADDICTIVE, PLEASE PLAY RESPONSIBLY