Lionel Messi confronted Arbeloa & Karanka in the Bernabeu parking lot after El Clasico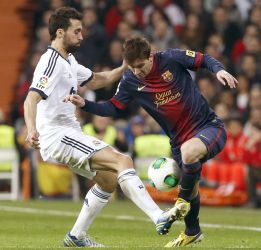 Rather intriguing claims have been published in the Madrid based media over the last few hours on incidents that allegedly occurred after Real Madrid's 1-1 draw with Barcelona in the Copa del Rey semi-final first leg.
Both AS and Marca report on suggestions originally aired by Punto Pelota – known to be a rather sensationalist and low brow source.
Lionel Messi is alleged to have confronted Real Madrid full back Alvaro Arbeloa in the Bernabeu car park after Wednesday night's 1-1 draw.
The Argentine forward was unhappy with Arbeloa touching his face during the match (see video below) and called Arbeloa "dumb" in front of his pregnant wife.
A Barcelona employee came to take Messi away from this mini fracas but not before Real Madrid assistant coach Aitor Karanka came on the scene.
To which Messi shouted at Karanka: "What are you looking at? You are just [Jose] Mourinho's puppet?"
According to Marca, Real Madrid players have been upset with Lionel Messi's attitude for some time during El Clasico matches.
Perhaps due to the hatful of goals – 17 and counting against Real Madrid – 1 short of Alfredo Di Stefan's all-time record in this fixture.
Barcelona, when contacted over these claims, refused to even credit them with a response.
Are they typical Madrid-based media chatter or revelations that Lionel Messi is not quite the choir boy we have been led to believe?
---
GAMBLING CAN BE ADDICTIVE, PLEASE PLAY RESPONSIBLY