"Levy's decision to replace Jol with Ramos has been catastrophic" – Andy Dunn
Comment & analysis round-up
Quote of the day: "Some of the stuff I've had to deal with has been soul-destroying and my family has stopped reading the papers. There've been people saying I've had two heart attacks and that I'm ready for a third, others saying I need my head examined. I didn't envisage any of this, not in the slightest. Maybe I'm naive. I've been in a state of shock and just can't believe it, it's sickening. I can see why people say Newcastle is one of the most difficult clubs in the country to manage. It's disappointing because people feel they've got the right to degrade me. It'll all end in tears anyway, it'll go to court and we'll see how brave they are then. I want people to have the bollocks to say things to my face… Some of the personal stuff is just invented, it's not right and people are going out of their way to do it. I know I'll get hammered even more but I can live with it. I've got to hold my hands up, I didn't think I'd be treated the way I have with all the cheap shots. I didn't realise football had got to that stage. None of the recent Newcastle managers have been in touch to offer any advice but I've had loads of telegrams from managers wishing me all the best. Their advice was keep my head down, try and get people onside and try not to fall out with anybody. I've listened to them, haven't I?" – Joe Kinnear.
Runner-up: "I feel if you work for an English club you need an English identity and I think that worked. We were developing young players and were in Europe every year. I had six players in the England squad. Now there is Corluka, Giovani, Pavlyuchenko, Gilberto, Modric… and Spurs have a different philosophy. They've changed the team's identity. They are so desperate for success that if they are not successful it will be a disaster… If you work with a football director who's your choice, or you're his choice, the system functions. When Frank [Arnesen] was at Spurs it was perfect. But if one coach leaves and the next one is changing 10 or 12 players what's the value of having the structure?" – Martin Jol.
Today's overview: Everton fans are delivered exciting news this morning, Rob Draper and Joe Bernstein join forces to report the apparently imminent takeover of Everton claiming the Toffees "will become the latest Premier League club to move into foreign ownership when a £200million sale to bidders from the Far or Middle East is completed."
However, the club making all the waves this Sunday is Spurs. Damien Comolli, the beleaguered director of football is virtually out on his ear, with the only issue being who his replacement will be. Rory Smith splashes with the rumour that Tottenham are lining up Avram Grant, but Rob Shepherd claims that Spurs are in fact targetting Terry Venables to be the new director of football. On replacing Juande Ramos, Duncan White argues that the Lillywhites must learn the lessons from firing Martin Jol and persist with the Spaniard.
But the Spurs coverage doesn't stop there. Andy Dunn steamrollers into the Spurs debate to openly criticise Daniel Levy, arguing "Levy is the man who must take ultimate responsibility for the mess at White Hart Lane."
The North-London club also find themselves dealing with the fallout from the Sol Campbell song-abuse affair. Paul Wilson calls for a ban against Spurs supporters, criticising the fact that "Tottenham fans' vilification of Sol Campbell has become an annual event and is an affront to a civilised society." Such sentiments are echoed by Rob Beasley, who reports "the FA will demand lifetime bans for the Spurs fans who abused Sol Campbell." Lastly, Rod Liddle delves into the uproar, as he tries to make sense out of the situation – "The Sol Campbell song is impossible to defend; but then an awful lot of football chants are difficult to defend."
The stand-out article today comes from Patrick Barclay, who has a simple but important message for the future of football in the UK in light of the global financial crisis – the "government must act now to avoid football meltdown."
Unsurprisingly Newcastle also receive attention. Tim Lewis relives Joe Kinnear's rant, arguing that it harked back to footballing times of yesteryear ("it was hard not to feel some nostalgia for the good old days of English football") while Ian Bell tries to understand why Kinnear blew his top ("can you really blame Kinnear? He knows, the press know, and the fans know that he is not one of those 'dream signings' Ashley has been in the habit of promising").
In other Premier League news, Stewart Robson points out the differences in management style between Joe Kinnear and Gianfranco Zola, Duncan Castles has an exclusive interview with Kia Joorabchian in The Observer, who claims not to be an agent but a fixer, David Harrison reports that Manchester United have banned any Christmas party this year, and Douglas Alexander chews the fat with Sunderland's Craig Gordon.
Ahead of next week's World Cup qualifiers, Steve Tongue waves farewell to the so-called golden generation of English football and although Patrick Barclay knows the pitfalls of talking up England's chances on the international stage, the Sunday Telegraph's scribe does so anyway.
Finally, David Hills points out some double standards regarding UEFA's new cookbook and Ian Hawkey investigates the problems Jurgen Klinsmann is having at Bayern Munich, including the story of the Buddhas.
The Mail on Sunday's duo of Rob Draper and Joe Bernstein join forces top report on the mooted, and apparently imminent, takeover of Everton. "Everton will become the latest Premier League club to move into foreign ownership when a £200million sale to bidders from the Far or Middle East is completed, possibly in a matter of weeks. With Newcastle United also expected to end up in overseas ownership as Mike Ashley prepares a £250m escape from the troubled club he bought 17 months ago, the Premier League is fast approaching the day when the majority of clubs are in foreign hands… In Everton's case there are two bidders, one from the Far East and one from the Middle East, believed to be a sovereign wealth fund similar to the Abu Dhabi United Group, who took over Manchester City last month in a £200m deal… Manager David Moyes will sign a new contract with the club next week despite the impending change of ownership."
The Sunday Telegraph's Rory Smith splashes with the rumour that Tottenham are lining up Avram Grant to replace Damien Comolli. "Sources close to the club's chairman, Daniel Levy, suggest that Grant would be his favoured choice for the role in the event of Comolli's departure. Publicly Tottenham said there was "zero truth" in any report linking them to Grant. His representative, the agent Pini Zahavi, is keen to see Grant return to the game while his profile is still relatively high. The Israeli took Chelsea to within a whisker of Premier League and Champions League glory last season."
But confusion reigns on this story as Rob Shepherd (NOTW) claims that Spurs are in fact targetting Terry Venables to be the new director of football, not Grant. "I understand senior figures at the club see former manager Venables as the perfect man to replace under-fire sporting director Damien Comolli… Sources at White Hart Lane believe Comolli will be gone before January's window, leaving the way clear for an astonishing return for Venables. The former England boss, 65, was forced out of Spurs in 1993 after a bitter battle with Sir Alan Sugar. But Venables retains close links with Spurs and this week praised chairman Daniel Levy."
On replacing Juande Ramos, Duncan White (Sunday Telegraph) argues that Spurs must learn the lessons from firing Martin Jol and persist with the Spaniard. "Jol's success with Hamburg must tell Tottenham something. Sacking Jol was a mistake. They made their bed with that. However, despite all the stories of player grumblings, the tactical mistakes, sacking Ramos would be just as stupid. Gutless, even. Tottenham put their reputation on the line in the way they appointed Ramos but asked for the benefit of the doubt. It is all about the long game, they said. Let us hope they have the nerve to play it."
Andy Dunn (NOTW) steamrollers into the Spurs debate to openly criticise Daniel Levy, arguing that the debacle at Tottenham lies with the man at the top. "Levy is the man who must take ultimate responsibility for the mess at White Hart Lane. Whenever he took it, Levy's decision to replace Jol with Ramos has been catastrophic. Over in Germany, to no one's surprise, Jol is making hundreds of thousands of Hamburgers very happy. Ramos' main contribution to Spurs has been to ban hamburgers. Levy thought he was getting a coaching doyen — instead he got a dietician. The Carling Cup? Four games won. Blackpool, Manchester City, Arsenal reserves and a Chelsea side that never turned up. Ramos has a dismal 25 per cent win record. But at least the players are skinny. Ah, but it's Damien Comolli's fault. Well, firstly, Comolli was a Levy appointment and, secondly, if Ramos was stupid enough to allow the buying and selling of players to rest solely in the hands of a law graduate, then he was not the man for the job in the first place."
Delivering a collection of shorts covering some of the hot topics of last week in football, Paul Wilson (The Observer) calls for a ban against Spurs supporters. "Tottenham fans' vilification of Sol Campbell has become an annual event and is an affront to a civilised society. Spurs should have seen it coming and acted much more decisively to make sure their supporters behaved themselves at Portsmouth, instead of joining the police in the general cop-out that it is impossible to arrest a whole away end. If Spurs cannot or will not control their own supporters, there is only one way to reinforce the message that these sickening chants will not be tolerated and that is to deny the club entry to the next available competition, let's say the FA Cup. Perfectly simple, really. Well, that's what everyone said when it was Croatia supporters abusing Emile Heskey."
According to Rob Beasley (NOTW), "the FA will demand lifetime bans for the Spurs fans who abused Sol Campbell." "The FA have spoken to Spurs, Portsmouth and Hampshire police following Pompey's official complaint and will ensure anybody found guilty faces the ultimate punishment… Spurs are already co-operating with the police who are sifting through CCTV footage in a bid to single out those guilty of baiting the former White Hart Lane hero."
The Sunday Times' Rod Liddle also delves in to the uproar from football songs, as he tries to make sense out of the situation. "The Sol Campbell song is impossible to defend; but then an awful lot of football chants are difficult to defend. They have become nastier and more personal of late and we could argue all year about why. Perhaps we are much nastier people these days; or the gulf between players and supporters has become so grotesque the players are no longer viewed as anything other than fair game for an unlimited level of abuse. We pay their obscene wages; they repay us with a total and utter lack of loyalty, so they get what they deserve. Maybe it's both of these things."
Like a prophet begging with the people to repent for their sins, Patrick Barclay (Sunday Telegraph) has a simple but important message for the future of football in the UK – the "government must act now to avoid football meltdown." "A deadline must be set for the eradication of debt from clubs' football budgets on the Arsenal model, which rightly treats the building of the Emirates Stadium as a separate matter. Then businessmen could make profit from football in an orderly and legitimate way, as they do from sport in the United States. There are enough American owners around the Premier League to create a lobby for that and their reticence can only fuel the suspicion that they have come here to make the most of our structure, or the absence of it. There is one other scenario: disintegration. Hard times; advertising cutbacks; television companies struggling; a big club going bust as a bank; a domino effect. And, though a lot of people would quietly enjoy that, it would be the ultimate nightmare. Because football is rather good at taking care of itself. As the administrators flooded in, they would find the likes of you and me – the general public, in the form of the Inland Revenue and the former Customs and Excise – near the back of a long queue. That would be intolerable. We are paying for the failings of the City. That is enough. A bloated game that cannot even be bothered to check where its money is going must not be allowed to rob us. Let the Government quickly close that stable door – and then see if the horse bolts."
Tim Lewis relives Joe Kinnear's rant in The Observer, arguing that it harked back of footballing times stuck in yesteryear. "Now, in 2008, swearing is not funny and if you listen to Kinnear's outburst, he comes across more as a bumbling, deluded old man than the bastard (sorry) son of Malcolm Tucker and Lily Allen. But still, when the tirade was in full swing, it was hard not to feel some nostalgia for the good old days of English football – boggy pitches, no diving, players ravaged by alcoholism and gambling. Reading the transcript was practically like eating Marks & Spencer's chicken kiev while listening to Baccara."
The Sunday Herald's Ian Bell also focuses on Kinnear's outburst, trying to understand why Joe blew his top. "Prince Joe, brandishing not his rapier wit but one of those four-letter words so offensive that not even the initial letter is spared asterisking. Naturally Kinnear wishes to prove himself. He was never the best manager in the world, but hardly the worst, and he is trying to break back into the game via a post that many, if not most, would not touch with tongs and rubber gloves, far less a barge pole. But if he did not blow his chances last week Newcastle are in far worse shape – this stretches credulity – than anyone had realised. Fifty expletives in the first five minutes of "chat" is no-one's idea of a personal best. Then again, can you really blame Kinnear? He knows, the press know, and the fans know that he is not one of those "dream signings" Ashley has been in the habit of promising."
Arguably pointing out the obvious, the Sunday Telegraph's Stewart Robson points out the differences in management style between Joe Kinnear and Gianfranco Zola. "Talking Tactics The games on television will give everybody a chance to see two clubs with new managers in action. Since their arrivals at West Ham and Newcastle respectively Gianfranco Zola and Joe Kinnear have decided on wildly different methods of dealing with the media. Zola has charmed everybody with his enthusiasm and intelligence while Kinnear's press conference on Thursday, which contained 52 expletives and showed an incredible lack of tact, will have done little to endear him to anyone at St James' Park. As a player, I always preferred managers who were informative rather than abusive."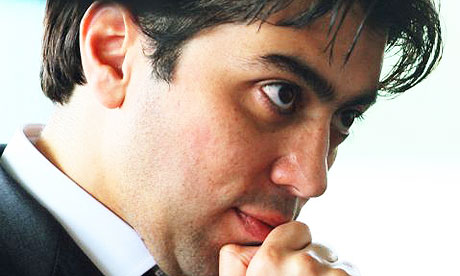 Duncan Castles has an exclusive interview with Kia Joorabchian in The Observer, who claims not to be an agent but a fixer. Joorabchian: "I'm not a football agent and I don't practise as an agent. I think the agency business is very different. We also have a business that advises players on their rights. We advise them on their image, on their financial stability, we advise them on every aspect, because a lot of agents are not professional to do that. A lot of agents work for us and basically they just do the player transfer. We provide the structure, and for that they work for us… We have a full scouting service, we provide them with a structure. We are another arm of the football director. We've been involved in advising them on what offers to accept and what not. And we've been paid according to how we've agreed with them, but I can't disclose how we've been paid. It's all within the context of our consultancy agreement."
In a story likely to only upset the red-tops, David Harrison (NOTW) reports that Manchester United have banned any Christmas party this year. "The United boss has ruled out a repeat of last year's private gig when they bussed in groups of women to a luxury hotel in Manchester city centre. Sir Alex read them the riot act after the party where defender Johnny Evans was falsely accused of rape. The United boss will insist they attend an official club do with their partners. And Fergie is determined his mega-rich squad do not indule in extragavent public displays of their wealth when others are suffering financial hardship."
Douglas Alexander chews the fat with Sunderland's Craig Gordon in the Sunday Times, who looks forward to Scotland's next macth in Norway. Gordon: "The expectations have risen and it is up to us to deal with that and get on with it and produce the results. We're still not a team with any stars, we have to grind everything out and work hard for our victories. We did that in Iceland and we'll need to do that against Norway. The manager got his tactics absolutely spot on [in Iceland] and he was brave as well, bringing in a few players, playing Scott Brown in a slightly deeper role, and it worked really well. People have been calling out for that for years when we were maybe scraping results here and there and not playing very well. He is going to go that way and be a bit more attacking, but for different games you have to adapt. There are still going to be times when we will have to set up very defensively and there are games, especially at home, where we will need to be able to go and win."
The Independent on Sunday's Steve Tongue compiles a list of shorts, including his prediction that the days of £100 per football ticket looms large. "After the unwelcome landmark of the Championship's first £50 ticket, for Queen's Park Rangers' home game with Derby County last weekend, how long before the £100 Premier League match? It will certainly happen in London, where prices have always been highest, and the Emirates Stadium will almost certainly be the venue. Arsenal currently charge £94 for best seats at their biggest games, leaving Tottenham Hotspur (£75) and Chelsea (£65) looking cheap at the price. QPR, incidentally, had designated as "category A" opposition a Derby team that were in the bottom six in the table and had not won an away game for 18 months – until travelling to Loftus Road for a 2-0 success. Their manager Paul Jewell may not have gained many points but he will have won friends with his observation: 'We can't keep bleeding fans dry.'"
And in a second article, Steve Tongue waves farewell to the so-called golden generation of English football. "The tarnished golden generation are slowly being eased out. Of the 2006 World Cup squad, Sol Campbell and Jamie Carragher have gone for good and time is against Beckham, already discarded once and then recalled, and his Manchester United contemporary Gary Neville, who are both 33. Peter Crouch has not been picked this season and Aaron Lennon has never appeared in one of Capello's squads… With Walcott as a wide midfielder, which is what he is, there would be room for four strikers in the squad, offering Owen his chance. But Wayne Rooney, if fit, and Emile Heskey would reasonably expect to start the games after performing so well on that extraordinary night in Zagreb."
Although Patrick Barclay knows the pitfalls of talking up England's chances on the international stage, the Sunday Telegraph's scribes does so anyway. "England looked in Zagreb as if they could beat anyone, with the possible exception of Argentina. How they might look in South Africa in 2010 we cannot say. But to deny a sudden feeling that Capello's squad could become the next world champions would be to shirk my job. What riches are at his disposal: a midfield choice between Steven Gerrard and Frank Lampard rather than, in Taylor's day, Geoff Thomas and Andy Sinton. And vast European experience: while Taylor, himself having known just a single season in Europe with Watford, was obliged to use newcomers to foreign fields, Capello can call on nine starters from the most recent Champions League final."
The Observer's David Hills points out some double standards regarding UEFA's new cookbook which is to promote healthy living. "Uefa say new anti-obesity kids book Eat For Goals! – healthy recipes from 13 players including Ruud van Nistelrooy, Thierry Henry and Steven Gerrard – will 'inspire kids'. 'Through our active support of Eat For Goals! Uefa is focusing attention on obesity, one of the major public health issues of the 21st century.' Also focusing attention on obesity: the £190m Uefa made this year from their Euro 2008 corporate family – headlined by Coca-Cola, Carlsberg and McDonald's. (Other obesity news: among the top players in lucrative commercial endorsement deals with Pepsi, Coca-Cola and Pringles: Ruud van Nistelrooy, Thierry Henry and Steven Gerrard)."
Moving onto the continent, Ian Hawkey (Sunday Times) investigates the problems Jurgen Klinsmann is having at Bayern Munich, including the story of the Buddhas. "Most attention centred on the new head coach, Jurgen Klinsmann, and almost as much on the mysterious new addition from Burma – a stately figure called Shakyamuni. It was one of the four Buddha statues placed on the roof of Bayern's training headquarters on Sabener Strasse shortly after Klinsmann took on his first job as a club coach. The explanation was that they had something to do with 'spreading positive energy,' though a few weeks into the season the porcelain deities were removed. The devout Christian in Bayern's midfield, Ze Roberto, said they did nothing for him, and as for those players more likely to frequent a Buddha Bar than visit a temple, they simply smirked. 'No professional footballer needs a Buddha,' said Mario Basler, once a playing colleague of Klinsmann's at Bayern. 'In my day, me and Effe [Stefan Effenberg] would have gone up and shot the things.'"
---