Leo Messi to Arsenal: Gunners fans 'start' crowdfund project to pay Barca star's £600,000-a-week wages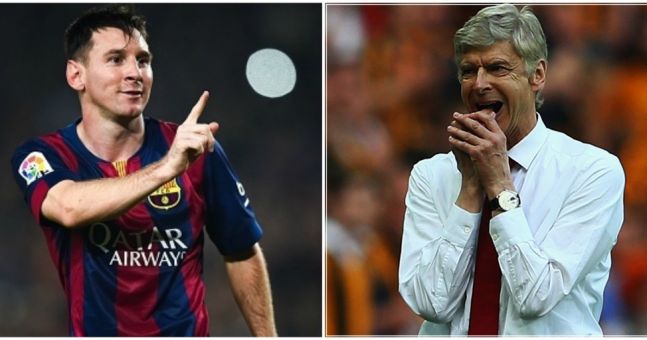 Arsenal fans have taken recent reports that Argentine superstar Leo Messi wants a move to the Emirates with a pinch of salt, with one fan comically asking 599,999 supporters to help pay the icon's reported £600,000 a week wage demands.
The Daily Star on Monday ran a report claiming that Barcelona superstar Lionel Messi is now open to a move to the Premier League after falling foul of the tax authorities in Spain.
The Star go on to claim that Messi's "preferred option" is to move to Arsenal (read earlier story here), however more important than the club is the player's wage demands of a staggering £600,000 a week.
The 28-year-old Argentina international would reportedly cost in the region of £150m should anyone wish to snap him up on a transfer, with only a few club's in the world able to pay the combined transfer and wage costs.
But one Arsenal fan has come up with a unique way to pay for Messi's wages.
Twitter user @matt_clarky has offered to set-up a £1 direct debit each week to Lionel Messi, and has called on his fellow Gunners to do the same.
What do you think Arsenal fans? Is this a totally ridiculous idea, or the future of transfer deals?.
I'm pretty sure I could find another 599,999 other #Arsenal fans willing to set up a £1/week direct debit. #messi #afc #justdoit #thedream

— Matt Clark (@matt_clarky) November 16, 2015
@matt_clarky @TheGunnersWay @Arsenal This is a definite plan.

— Adam Sykes (@iamadamsykes) November 16, 2015
@matt_clarky @TheGunnersWay @Arsenal this needs to go on Kickstarter haha

— Adam Sykes (@iamadamsykes) November 16, 2015
Click here for more Premier League betting tips
---