Laurent Koscielny does NOT want to leave Arsenal for Barcelona [L'Equipe]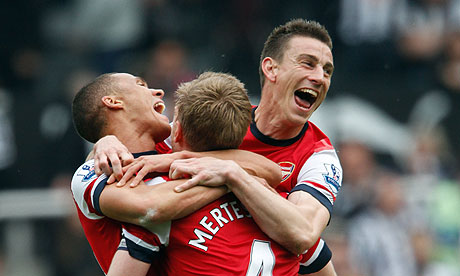 There was consternation among Arsenal fans over the report in Catalan paper Sport on Saturday that suggested Barcelona were to bid for Laurent Koscielny.
Sport somewhat mischievously suggested that Laurent Koscielny was keen on a "change of scenery" after three seasons at Arsenal but this has been rubbished by reliable French paper L'Equipe on Sunday morning.
Whilst Barcelona are believed to want Koscielny, the French defender does not want to leave Arsenal after becoming an integral part of the first team under Arsene Wenger.
Koscielny does not want to go to Barcelona just one year before the World Cup and potentially jeopardise his place in the France World Cup squad, according to L'Equipe.
This may not be the end of the "Koscielny to depart Arsenal" rumours with Bayern Munich also keeping an eye on developments.
Koscielny's agent, Stephane Courbis, told French Eurosport yesterday that neither Bayern or Barcelona had made contact.
Courbis added: "But I know that Laurent is part of a short-list of three or four players for both clubs."
Newspaper reports this morning confirm Laurent Koscielny was in Tuscany this week, attending Theo Walcott's wedding.
---