Kouchame sent off for punching teammate El-Askri in the face (Khouribga vs Raja Casablanca)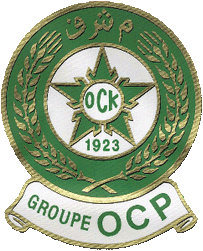 With much of planet football still on a hiatus during the holiday season, some of the less vaunted world leagues are managing to grab the spotlight. Sadly for Moroccan outfit Olympique Khouribga though, their making the news for all the wrong reasons.
By way of background, until recently Olympique Khouribga were running away with the Moroccan top flight. But a new year's wobble, just one win in their last five matches, has seen OCK drop from first to second in the division.
Last weekend they participated a big match hosting third-placed Raja Casablanca. OCK lost 2-1 to fall off the pace even further, however the story of the game was a red card to Ismail Kouchame on the stroke of halftime.
After getting into a slanging match with teammate Mohamed El-Askri towards to end of the first forty-five, an angry Kouchame started flapping his hands in El-Askri's face.The pair traded slaps to each others kissers, before Kouchame raised the bar by whacking El-Askri in the eye.
The incident was eventually brought the the officials attention after he blew for the break, and the man in black dismissed Kouchame for violent conduct. At that point OCK were leading 1-nil. In the end they lost 2-1.
Ismail Kouchame's assault on teammate Mohamed El-Askri can be seen here.
***
Teammates coming to blows is nothing new in football. Fights between English-based players have included Lee Bowyer vs Kieron Dyer, Graeme Le Saux v David Batty and Ricardo Fuller v Andy Griffin.
Best football betting tips & free bet offers
Click here for more Premier League betting tips
---