Kobe Bryant discusses watching football growing up in Italy & claims Lionel Messi will be the greatest ever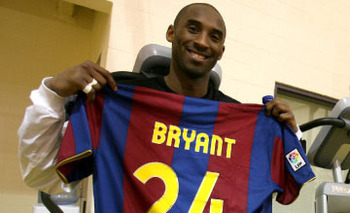 US basketball star Kobe Bryant is in Barcelona with his American teammates for a friendly match with Spain, and the local press have been eager to get his thoughts on both FC Barcelona and football at large.
Happily the 33-year-old LA Lakers shooting guard hasn't been backwards in coming forwards with a host of marketable football quotes.
Harking back to his childhood, Bryant talked about growing up in Italy and watching a golden age of Serie A.
Diego Maradona was sensational. When I grew up in Italy, Serie A was the best. Marco van Basten, Ruud Gullit, Frank Rijkaard, Roberto Baggio, Paolo Maldini, Maradona at Napoli. Serie A was top level at the time.
Bryant was also asked to choose between Lionel Messi and Spanish basketball hero Manu Ginobili, which allowed him the opportunity to shower praise of the Barcelona forward.
The tie-breaker goes to Manu because he wears Nike… I think Lionel Messi is right there with Diego Maradona. He's right there with him. When it's all said and done he'll be the best ever.
Watch Kobe Bryant talk football below.
[jwplayer config="For-all-videos" mediaid="205038″]
Best football betting tips & free bet offers
Click here for more Premier League betting tips
---