Kleber (Palmeiras) ignores the drop-ball convention & almost starts a riot vs Flamengo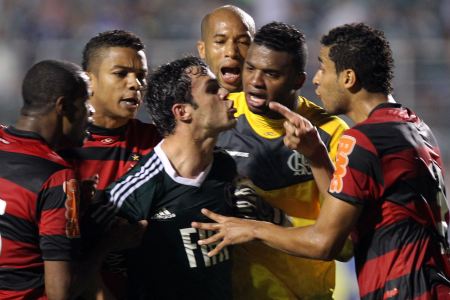 At the same time that Paraguay and Venezuela were kicking lumps out of each at the Copa America, a second brawl threatened to spill over in the Brazilian top flight.
Palmeiras drew 0-0 with Flamengo, but the match descended into chaos after the hosts' centre-forward Kleber refused to adhere to fair-play convention following an injury to a Flamengo defender.
The incident started when Marcos Assuncao flattened Flamengo defender Wellinton during an aerial collision. Although no foul was called at first instance, after seeing Angelim roll around on the floor in supposed agony the referee called a halt to the play.
Medics arrived on the pitch to tend to Wellinton, however Kleber clearly felt that the Flamengo man was faking. Accordingly, after the ref restarted the match with a drop-ball, Kleber, rather than kicking the ball to Flamengo, opted to try and score a goal.
In fairness to Kleber, the Palmeiras man had a point that his side were being unfairly punished by the stoppage in the play. Not only were his team stopped cold midway through a promising attack, but now they were being asked to relinquish possession too.
Nevertheless, the Flamengo team reacted angrily to Kleber's behaviour. Although the forward missed the target with is shot, immediately the teams turned on each other as bad blood between the sides boiled over.
The incident can be seen here.
---