Kjetil Rekdal to Eirik Bakke (ex-Leeds): "Go away, you're a drunkard, go drink some more!" (video)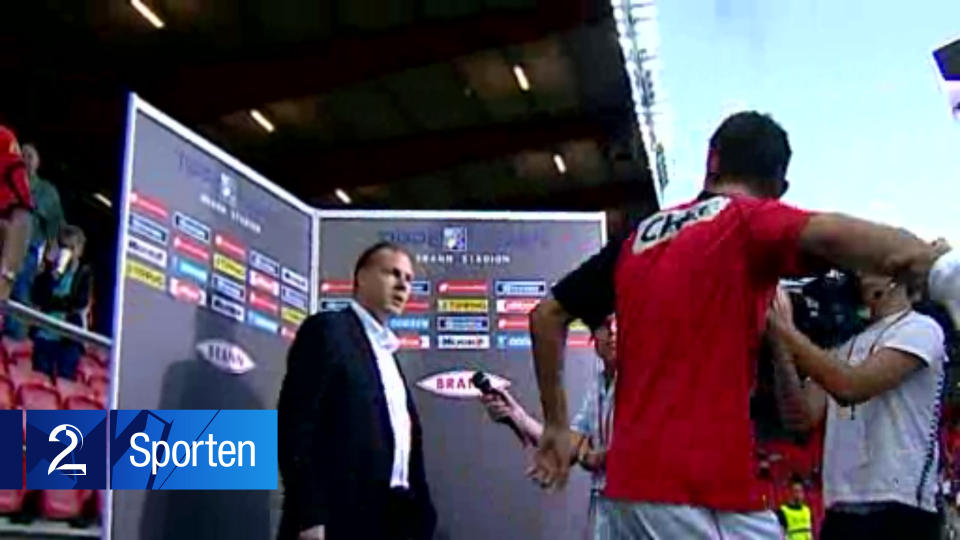 Before we get into this story, we need to make a big shout-out to our friends over at NordicFootball.info for having brilliantly written up this in brilliant English, saving us the trouble of stumbling our way through articles converted through Google translate. As far as we are aware, NordicFootball is the only site on the net that exclusively reports Scandinavian football in English.
Ok. Enough of the brown-nosing.
This episode happened last Thursday in Norway during the meeting of Brann and Aalesund in the Tippeligaen. Setting the scene, the two protagonists of the story are former Leeds United midfielder Eirik Bakke (currently playing for Brann) and AaFK manager Kjetil Rekdal.
As explained by NordicFootball:
"It all started 39 minutes into the encounter between Brann and Aalesund when AaFK wide-man Demar Phillips was clipped on his way through by the last defender, but the ref was far away and had the sun in his eyes so no foul was awarded. Phillips, Rekdal and anyone else connected to AaFK were unimpressed, as there was a clear foul committed and it should have been a red card.
"At halftime there was a bit of a kerfuffle in the tunnel, Brann midfielder Eirik Bakke apparently lambasted Phillips for diving (presumably Bakke had about as good a view of the incident as the ref). The second half was played, Brann won 2-1, and Bakke stuck to his guns in the post match interview, opining that Phillips dived and that Rekdal should stop whinging. As it happened, Rekdal was nearby and took umbrage, having been told by journalists with access to a television that it wasn't a dive at all.
"The tremendously entertaining exchange that followed was picked up by cameras and microphones, with Rekdal telling Bakke that "You don't need to accuse us of diving when we don't dive", then telling him to "Shut up and watch the TV", "Shup up and sod off", and then for the prize: "Go away, you're a drunkard, go drink some more". That last one in particular seemed to hit a nerve, and Bakke had to be physically restrained and rather nonsensically called Rekdal a "fat pig" as a teammate escorted him down the tunnel.
(The video footage as shown on live TV can be seen here.)
"Superbly entertaining stuff, but obviously way out of order and Rekdal later went into Brann's dressing room to apologize and explain himself. Not that Bakke seemed particularly impressed with his efforts. This being Norway, there will be no shortage of sanctimonious wailing in the press about this and few will probably want to admit publicly just how amusing it all was. The game, incidentally, was one of Brann's better performances this season, while Aalesund really need to work on their defending."
A full news report into the incident including footage from the dressing room can be seen here.
Full match highlights of Brann's 2-1 win over Aalesund can be seen here.
---
GAMBLING CAN BE ADDICTIVE, PLEASE PLAY RESPONSIBLY