Just like Theo Walcott, no fuss! Gareth Bale showed Arsenal fans the score last season…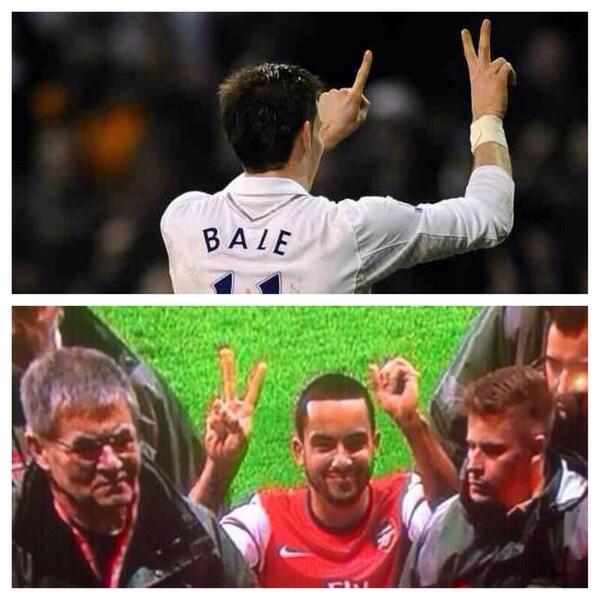 "The doctors said the coins were raining over his head and they had to protect him. Maybe that is why he did that [scoreline gesture]. It is not offensive. I have seen the pictures after the game and he does not even look aggressive. He is just smiling. I don't think so… You look for every single incident, and I understand that. But at some stage it is a reaction. If they judge it offensive what can I say?" – Arsenal boss Arsene Wenger.
Arsenal's comfortable win over Tottenham in the FA Cup on Saturday featured an amusing incident that was picked up by many as a "controversy" in the final 10 minutes.
Injured Theo Walcott left the pitch on a stretcher and responded to the coins being thrown from Spurs fans, by showing them the score with his hands.
Both Arsene Wenger (see quote above) and Tim Sherwood ("just a bit of banter") played this down after Arsenal's FA Cup win, but forgotten was Gareth Bale's celebration at White Hart Lane last season.
Bale scored in Tottenham's 2-1 win over Arsenal on March 3, 2013 and at full time signalled to the crowd, the scoreline 2-1.
And, there was absolutely no issue made of Gareth Bale's celebration…
---
GAMBLING CAN BE ADDICTIVE, PLEASE PLAY RESPONSIBLY