Journalist close to Andre Villas-Boas claims he quit Spurs & wants to manage in France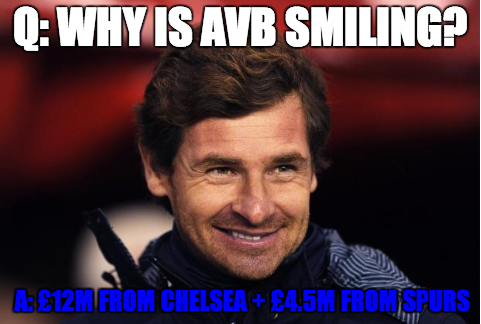 As is often the way, after the event both sides of a story try to spin their own take on events.
On Monday, Tottenham announced: "The Club can announce that agreement has been reached with Head Coach, Andre Villas-Boas, for the termination of his services. The decision was by mutual consent and in the interests of all parties."
But, on Tuesday, a journalist close to Andre Villas-Boas instead insisted on Twitter that AVB quit Spurs rather than there being "mutual consent."
Gonçalo Lopes, a Portuguese journalist from Diário de Notícias has often been first with Spurs scoops whilst AVB was manager at White Hart Lane.
Lopes also suggests that AVB will likely end up in France's Ligue 1, so you would imagine the former Porto and Chelsea boss is frustrated he rejected the PSG offer in the summer.
If AVB did quit, then the articles claiming he has received a large pay-off from Spurs are not based on much truth…
See the Gonçalo Lopes Tweets below.
AVB felt he hadn't confidence from Spurs board and decided to quit. #THFC

— Gonçalo Lopes (@_GoncaloLopes) December 17, 2013
He will be resting until the end of the season. French league could be his future. #avb #THFC

— Gonçalo Lopes (@_GoncaloLopes) December 17, 2013
---