Jose Mourinho is plotting a £48m bid to lure Gonzalo Higuain from Napoli to Chelsea [Sun]
Chelsea fans' interest is piqued on the backpage of the Sun on Boxing Day with the punchy headline "Jose £48m Hig swoop".
Despite having scored just 32 goals in the league all season and being regularly clubbed by pundits for not having a quality centre-forward in their squad, Chelsea stand in pretty good stead as the 2014 rolls around.
Jose Mourinho's men are in touching distance of top spot in the Premier League, while the Blues are through to the last-16 of the Champions League.
And now it seems that the Pensioners are ready boost their options as the business end of the season starts to kick in, as the Blues get ready to dip into the transfer market. Again.
A so-called exclusive from Andrew Dillon in the red-top reads:
Jose Mourinho is plotting a £48 million raid for Napoli striker Gonzalo Higuain. And the Italians are ready to do a deal with the Chelsea boss for the Argentine hotshot. 
Should this rumour prove accurate, it would prove a major kick in the balls for Arsenal. The Gunners tried their damnedest to try and sign Higuain in summer, however the former Real Madrid striker eventually headed for Naples for £32m. It's fair to say though that Higuain's time in Italy hasn't gone quite as planned after Napoli exited the Champions League in the groups while their Serie A title challenge is floundering.
Gonzalo Higuain has scored 13 goals in 19 games for Napoli this season in all competitions.
A copy of the backpage of the Sun on Boxing Day is below.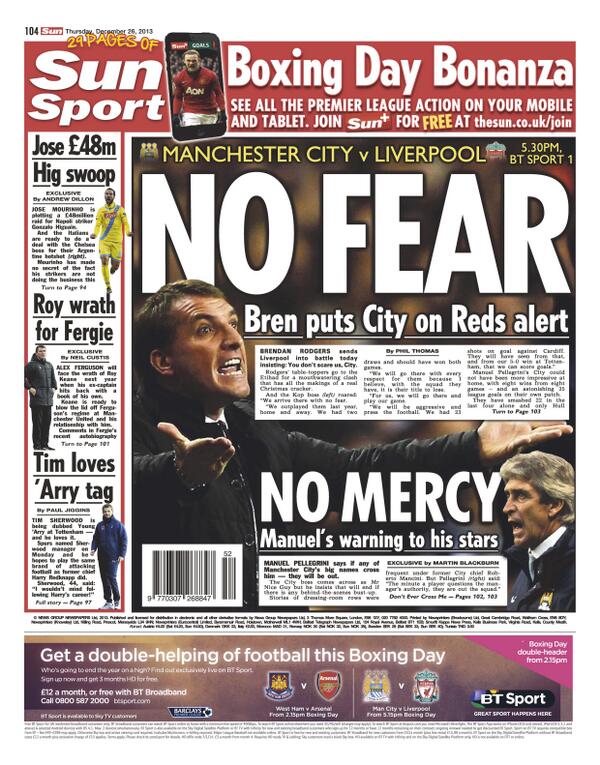 ---