Johan Cruyff says Holland are "blessed" to have Dirk Kuyt in their side as his heat map goes viral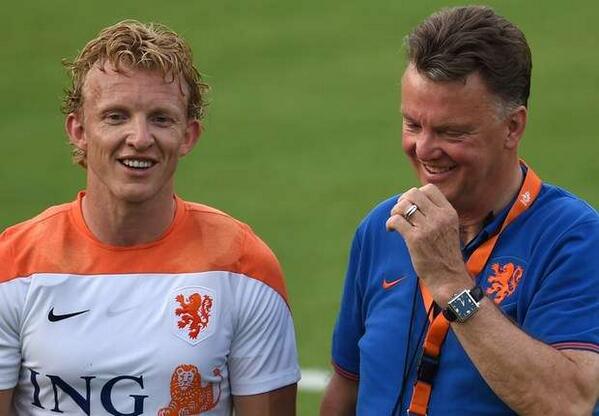 Could Dirk Kuyt emerge as one of the unlikely stars of the 2014 World Cup?
The former Liverpool star played no part in Holland's opening two World Cup matches and then there was surprise all round when Louis van Gaal played him left back for the 2-0 group stage win over Chile.
Despite being known as a striker or right-sided forward for the duration of his career, LVG has started to use Kuyt as a left back or wing back in a 5-3-2 in order to utilise his stamina and strength.
In the humid heat of Fortaleza on Sunday, against a Mexican side that should have had an advantage with the conditions, Kuyt was deployed all over the park, starting on the left again but also playing right back as well.
As a result, the 33-year-old has received the highest possible praise for a Dutch player – from 1974 World Cup legend Johan Cruyff.
Cruyff told De Telegraaf today: "You're blessed when you've got someone like him. Tactically you can go in all directions with Kuyt."
It would now be a major surprise were Kuyt to be dropped for the quarter-final against Costa Rica and his high energy style could prove to be crucial in the latter stages of the competition.
Heat maps, now de riguer when it comes to football statistics, were also pulled out to show Dirk Kuyt's amazing display in Fortaleza – see that and some Tweets below…
Perhaps that mooted move to Manchester United on the weekend was not so fanciful!
CRUSH THE BOOKIES: Back Germany at a whopping 3/1 to beat Algeria!
Dirk Kuyt: left wing back, right back, centre forward, right back.

— Sid Lowe (@sidlowe) June 29, 2014
Cruyff on the multifunctional Kuyt: "You're blessed as a team when you have someone like him". Heat map versus Mexico pic.twitter.com/mt3nHvhGrW

— Mohamed Moallim (@iammoallim) June 30, 2014
So impressed with Dirk Kuyt's physical fitness and commitment against Mexico. No wonder Liverpool fans admired him.

— Parv Ramchurn (@parvwriter) June 30, 2014
OH: "57% of Brazil is covered by rainforest. The remaining part by Dirk Kuyt"

— ikonal (@Iko_Nal) June 30, 2014
If every footballer had the attitude of Dirk Kuyt it would be a much more enjoyable game

— paul (@realpaulkenny) June 30, 2014
For his 100th cap for Holland, Striker/Right Winger Dirk Kuyt played Left Wing Back & Right Back. Very few players could boast that.

— Liverpool Exposé (@LFCExpose) June 30, 2014
Dirk Kuyt, "It was a special moment. Today is exactly seven years since my father died." #NED #Respect

— Dutch Football (@football_oranje) June 29, 2014
Dirk Kuyt's heat map. Everywhere. #NED pic.twitter.com/r725mFY07l

— Squawka Football (@Squawka) June 29, 2014
---
GAMBLING CAN BE ADDICTIVE, PLEASE PLAY RESPONSIBLY