Joey Barton leads the backlash against England's new £90 shirt: "Costs about £2… in some sweatshop" [Tweets]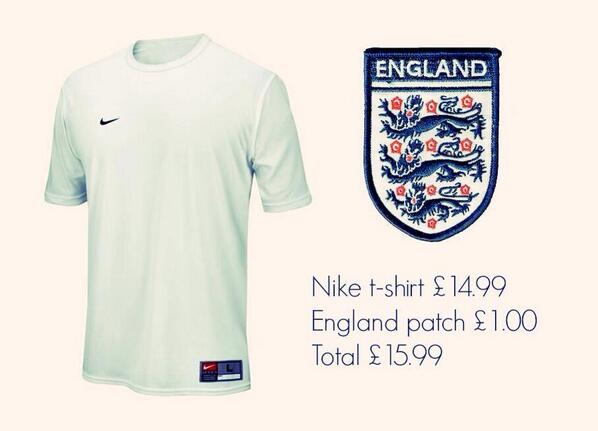 England have officially released images their new kit for the 2014 World Cup and, as may have been expected, not everyone is impressed.
The biggest gripe being levelled at the new England kit is that it's basically a white t-shirt with a few badges on it, that is being sold for the huge price of £90.
Leading the backlash against the kit is QPR midfielder Joey Barton, who appears to have positioned himself as the voice of the average punter faced with shelling out such a big price for the strip.
Barton, pulling no punches, has slammed the England kit as a rip off, making comments like:
Appalling. In my opinion. Football again allows commercialism to eat away at its soul. Something has got to give.
Its literally a white sports top with an England badge on. Costs about £2 pound tops to make in some sweatshop in the east.
Read Joey Barton's tweets criticising the marketing of England's new kit below.
£90 for the new England shirt is taking the mickey out of the fans. When will it stop?

— Joseph Barton (@Joey7Barton) March 31, 2014
I wonder what 'magic' technology it has this time that forces the price up but doesn't actually work.

— Joseph Barton (@Joey7Barton) March 31, 2014
Also technology that the supporters don't need. When will brands start to listen. Fans just want to feel apart of it. Part of the tribe.

— Joseph Barton (@Joey7Barton) March 31, 2014
When will football/brands start to stop pricing them out. #workingmanssport

— Joseph Barton (@Joey7Barton) March 31, 2014
Oh so ok, theres two tiers of shirt. 'real one' £90 and 'Stadium ?..Wtf' shirt £60. Which do you think kids will pressure their parents for?

— Joseph Barton (@Joey7Barton) March 31, 2014
Appalling. In my opinion. Football again allows commercialism to eat away at its soul. Something has got to give.

— Joseph Barton (@Joey7Barton) March 31, 2014
Its literally a white sports top with an England badge on. Costs about £2 pound tops to make in some sweatshop in the east.

— Joseph Barton (@Joey7Barton) March 31, 2014
---
GAMBLING CAN BE ADDICTIVE, PLEASE PLAY RESPONSIBLY