Joey Barton calls Neymar 'the Justin Bieber of Football' after poor show v Russia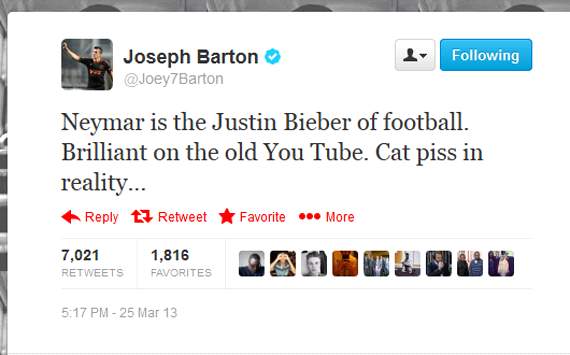 It was another quiet night for Neymar on English soil as Brazil drew with Russia at Stamford Bridge, and it seems genuine doubts are beginning to surface as to his actual quality.
Twitter was rife with scorn for Neymar throughout the game, and one source in particular caught the attention.
Joey Barton and Neymar have previous.
After the Brazilian Boy Wonder's poor showing against England last month, Barton dismissed Neymar as a meer #showpony.
This time, however, the gloves were off.
Perhaps piqued at Neymar's perfect reply last time – that he didn't even know who Joey Barton was – the Brit Abroad wasn't holding back in his criticism of Barça-bound Neymar.
He tweeted: 'Neymar is the Justin Bieber of football. Brilliant on the olYou Tube. Cat piss in reality…"
Awaiting Neymar's reply….because he definitely knows who Joey Barton is now; albeit he probably still has no idea who he plays for.
---
GAMBLING CAN BE ADDICTIVE, PLEASE PLAY RESPONSIBLY