Joe Cole is criticised for getting his head busted open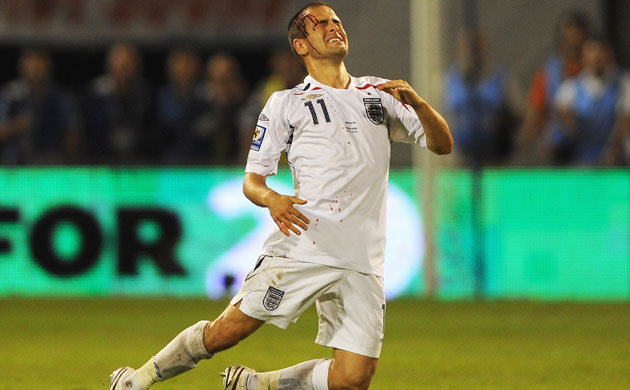 One of the main turning points in England's fantastic 4-1 win away in Croatia this was the sending off of Robert Kovac at the start of the second half. The veteran Croatian centre back elbowed Joe Cole in the head, drawing claret from the Chelsea midfielder head. Dazed, Cole was quickly substituted minutes later, clearly shaken by his injury.
For some however, Cole's injury was at best funny and at worst hugely exaggerated.
YouTuber "funforums123" presents the case for the humour brigade, overlaying the footage with comic music and looped images of Cole's initial reaction. Its a doubtful whether "the Cole" (watch here) will take off in the clubs.
Far more bitter is YouTuber "junajted1234" who, in this author's opinion, unfairly charges Cole with overreacting to Kovac's challenge. Also using video footage to prove his case, junajted1234 foceses in on Cole's fall after his he performed "the Cole," looping closeups of how the midfielder seemed to trip himself on his way crashing onto the floor. See the video here.
Click here for more Premier League betting tips
---